Study of OPS retirement system management proposed
The Nebraska Retirement Systems Committee heard testimony March 19 on a bill that would explore the possible transfer of management of the Omaha school retirement plan to the state.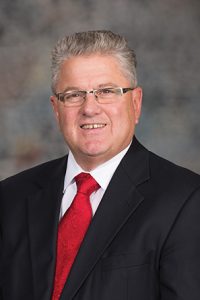 LB31, introduced by Seward Sen. Mark Kolterman, would require the Public Employees Retirement Board—in consultation with the Nebraska Retirement Systems Committee, the Omaha School Employees Retirement System board of trustees and board of education and other stakeholders—to prepare a work plan that examines the possible transfer of management responsibilities for the OSERS plan to the PERB.
Kolterman stressed that the bill does not signal a future merger of the troubled OSERS plan with the state retirement system, saying the state should not absorb the more than $700 million unfunded liability that the OSERS plan is facing.
Instead, he said, the bill would be a first step toward possibly relieving the OSERS board of trustees of management responsibilities for the plan, much like when the state took over investment authority for the Omaha plan in 2016.
"I want to make it very clear," Kolterman said. "This bill only directs that a study be completed. It does not mandate a transfer of management responsibilities from the OSERS board of trustees to the PERB."
Under the bill, the work plan would be required to include:
• a comparison of the annual OSERS administration costs to the estimated cost for PERB to assume management of the plan;
• identification of the tasks, issues and costs to transfer management; and
• establishment of timelines for completion of identified tasks.
The PERB would be authorized to assess OSERS for costs related to the work plan, which must be completed and submitted to the Legislature by June 30, 2020.
Marque Snow, president of the Omaha Public Schools board of education, testified in favor of the bill. Fewer than 10 school districts across the country maintain their own retirement plan, he said, and doing so has been a "huge burden" on the taxpayers and operations.
"[We] should be in the business of educating our students and not in the business of maintaining and administrating a retirement plan," Snow said.
No one testified in opposition to LB31 and the committee took no immediate action on it.