Paid family leave proposal stalls
After two days of debate, a proposal to offer paid family and medical leave stalled on general file March 20.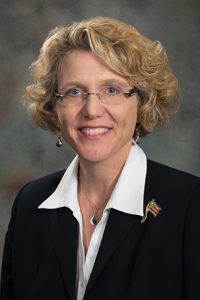 LB311, sponsored by Bellevue Sen. Sue Crawford, would provide partial wage replacement for eligible workers to care for themselves or a family member following a serious illness or to care for a new child.
Many Nebraskans have provided or will need to provide care to a loved one at some point in their lives, Crawford said, and for some, it will be their own health that requires extra care.
"Paid family and medical leave provides workers with the time and wages they need to deal with some of life's most special or difficult moments so that we can retain a skilled workforce, healthy children and strong families," she said.
A pending Business and Labor Committee amendment would replace the bill. As amended, LB311 would create the Paid Family and Medical Leave Insurance Act, under which a covered individual would be provided family medical leave for:
• care of a new child after birth, adoption or foster care placement;
• leave during a covered individual's serious illness or pregnancy;
• care of a family member with a serious health condition;
• care of a covered service member who is next of kin; and
• qualified exigency leave as defined in the bill.
A covered individual would be entitled to take leave under the bill beginning Jan. 1, 2022. Available leave would vary between six and 12 weeks during any calendar year dependent on the qualified reason for the leave.
A covered individual could not receive family medical leave benefits and unemployment or workers' compensation benefits at the same time. Benefit amounts would be determined by a covered individual's yearly earnings as a percentage of Nebraska's average weekly wage.
Nebraska has an opportunity to prove that it is a "family first" state, Omaha Sen. Machaela Cavanaugh said in support of LB311.
"We keep talking about how to recruit and retain people to this state, but we're not willing to have the real, hard conversations about what people are looking for in a home," she said. "They're looking for benefits, for where [they] can raise a family, for livability—we're not offering them that."
Also supporting the bill was Lincoln Sen. Matt Hansen, who said allowing people paid family and medical leave when necessary ultimately results in a better workforce.
"We hear time and time again from individuals who have to work while they're sick or work while taking care of a family member … that if they just had a few extra days or a few extra weeks to actually get healthy, to get settled … that they could be more productive and [functional] at work," he said.
As a young woman, Peru Sen. Julie Slama said she supports the concept of paid leave, but that the bill as written would "cripple" small businesses in rural districts.
"If this bill were to be implemented and we were to see people taking these 12-week periods off to care for a new child … it's not as simple as going to the local temp agency and getting someone to fill that role for the next three months," Slama said. "That role will remain vacant because we already can't fill the jobs that we have."
She introduced an amendment, which is pending, that would reduce available leave to four to six weeks during a calendar year, dependent on the qualified reason for leave.
North Platte Sen. Mike Groene also opposed the bill, saying it was unnecessary and would be detrimental to business.
"This is a 'nail in the coffin' of economic development for this state," Groene said. "It drives people away and it drives businesses away."
The Legislature moved to the next item on the agenda before voting on LB311 or the pending amendments. Per a practice implemented by Speaker Jim Scheer, the sponsor of a bill that is facing a potential filibuster must demonstrate sufficient support for a cloture motion before the measure will be scheduled for additional debate.