In-home cottage food sales considered
The Agriculture Committee heard testimony Jan. 23 on a bill would authorize Nebraskans to sell food already authorized for sale at farmers' markets to customers from their homes.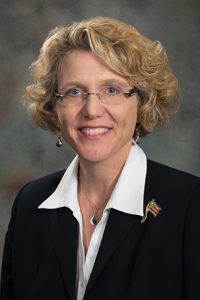 Current law allows for the sale of foods such as baked goods, fruits, vegetables and herbs directly to a consumer at a farmers' market if the consumer is informed by a sign at the sale location that the food was prepared in a kitchen that was not subject to regulation and inspection. LB764, introduced by Bellevue Sen. Sue Crawford, would expand that provision to direct consumer sales.
Crawford said LB764 would make it easier for Nebraska cottage food producers to earn an income without compromising public safety. State Department of Health and Human Services data show no outbreaks of foodborne illnesses related to farmers' markets, she said, and it would seem logical that consumers should be allowed to buy the same foods made under the same conditions directly from the producer.
"This legislation simply makes cottage food available throughout the year and provides access to local foods in communities that do not have farmers' markets," Crawford said.
The bill would limit an operation's use of the internet to advertising and taking orders, and the goods could not be shipped by mail or a courier service. An operation would be limited to $25,000 in gross annual sales.
Nicole Fox, director of government relations for the Platte Institute, testified in support of the bill, saying that it would boost state economic growth. Allowing producers to make cottage foods in their homes rather than in a commercial kitchen would reduce startup costs for small food businesses, she said.
"With the increased focus on supporting and growing local economies," Fox said, "cottage food laws need to be broad enough to allow producers to make their operations viable local businesses."
John Hansen, president of the Nebraska Farmers Union, also testified in support of the bill, saying that it would help farmers who are looking for ways to supplement their income after several years of low commodity prices.
"We have a growing number of entrepreneurs who are trying to augment their incomes with this kind of in-home business," he said. "And it seems to me that this is a way where we can provide guidance and oversight and yet we can reduce some of the regulatory barriers."
Also testifying in support of the bill was Skylar Falter, a beginning farmer. Falter said that excess food, such as second-rate vegetables that do not sell at a farmers' market, often goes to waste. LB764 would help to eliminate that waste and provide healthier food to communities. Many beginning farmers lack the capital to build commercial kitchen space, she added.
"I think this really allows farmers and other individuals in rural communities—and urban—to diversify income streams without taking a huge risk," Falter said.
Testifying in opposition to the bill was Kathy Siefken, executive director of the Nebraska Grocery Industry Association. When a consumer buys food at a farmers' market, Siefken said, she has a clearer understanding of the risk of eating that food than she would if she were to purchase it directly from the producer outside that setting.
Additionally, she said, LB764 would not require producers to receive any food safety training or to follow cottage food guidelines from the Association of Food and Drug Officials.
"Bottom line: This bill compromises food safety," Siefken said.
The committee took no immediate action on the bill.