Limited firearm possession in schools discussed
The Judiciary Committee considered a proposal March 3 to broaden the exemption for who can legally carry a firearm in a Nebraska school.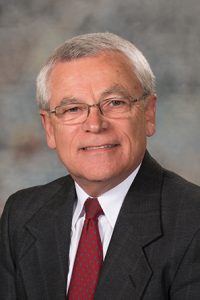 LB417, sponsored by Hastings Sen. Steve Halloran, would add full-time, off-duty law enforcement officers to the list of individuals allowed to possess a firearm on school grounds under state law. Halloran said the bill would add an additional layer of protection for students, staff and family members.
"Our law enforcement officers receive extensive training to carry firearms safely and are uniquely qualified to intervene in dangerous situations to protect members of the community," he said.
Testifying in support of LB417 was Jim Maguire. Speaking on behalf of the Nebraska Fraternal Order of Police, he said the bill would apply only to full-time law enforcement officers who receive extensive firearms training and already carry guns.
"In theory, you could have an officer who gets off work, goes to pick up their child from school and they'd be in violation under current state law," Maguire said.
Also testifying in support was Jennifer Hicks of Peru. Her mother was a school resource officer, she said, whose presence on the school grounds allowed her to establish a good relationship with students.
"It's a healthy thing for our kids to see law enforcement officers in a positive light and in the full capacity of their position and their authority," Hicks said. "I believe that not just the kids are kept safer, but all of us are, when law enforcement officers actually get to carry their firearms."
Opposing the bill was Melody Vaccaro, representing Nebraskans Against Gun Violence. Expanding the number of people who can possess a gun in schools may increase some students' sense of safety, she said, but could decrease the actual safety of the most vulnerable students.
"In Nebraska … Black and brown youth have increased interactions with school resource officers — and also we see increased interactions with students with disabilities — and that's a really big problem with the school to prison pipeline," Vaccaro said.
Kristen Dupree of Omaha also spoke in opposition to LB417. She said state law already provides eight exceptions for people to carry firearms in schools.
"Schools are supposed to be an inherently safe place for children," Dupree said. "Allowing more people to possess firearms on school property does not increase safety [but] opens the door for more accidents."
The committee took no immediate action on the bill.