Election Day holiday proposed
Statewide general election day would become a state holiday in Nebraska under a bill considered March 3 by the Government, Military and Veterans Affairs Committee.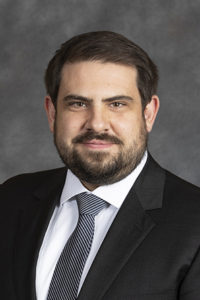 LB577, introduced by Lincoln Sen. Eliot Bostar, would make the first Tuesday after the first Monday in November of even-numbered years a state holiday. The bill also would require vote-by-mail return envelopes to be postage paid and preprinted with the election commissioner or county clerk's address.
In addition, the bill would register an individual to vote automatically when he or she obtains a drivers license or state identification card unless the individual opts out.
Eleven states have adopted an Election Day holiday, Bostar said. He added that the bill would increase voter turnout, citing a U.S. Census Bureau survey in which 14 percent of respondents said a busy schedule was the main reason they didn't vote in the 2016 presidential election.
"For many people it is difficult to find the time to vote on a work day," Bostar said.
Gavin Geis, executive director of Common Cause Nebraska, testified in support of the bill. He said LB577 would make it easier for voters to access the ballot and would elevate the importance of Election Day.
"We celebrate the Fourth of July when we secured our democracy, why should we not also celebrate the day that we renew that democracy?" Geis said.
Karen Bell-Dancy, executive director of the YWCA of Lincoln, also testified in support. LB577 would increase the accuracy of voter rolls and eliminate barriers to voting like paying for postage, she said.
"LB577 brings our state election-related mail in line with our Nebraska Constitution's promise to make elections free," Bell-Dancy said.
Nebraska Secretary of State Bob Evnen opposed the bill. In written testimony, he said that registering individuals when they obtain a drivers license would lead to duplicate registrations.
"We anticipate an additional 354,000 more records per year as a result," Evnen said. "Processing these duplicate registrations takes time, money and effort from our county election officials."
Also in opposition was Jon Cannon, executive director of the Nebraska Association of County Officials. He said in written testimony that LB577 would increase mailing costs for counties. In addition, he said, the information that an individual provides to obtain a drivers license may be insufficient to update their voter registration.
"The proposed process would significantly increase the time spent by election officials to verify changes and missing application information," Cannon said.
The committee took no immediate action on the bill.