Aid proposed for college students in high-priority programs
Low-income college students enrolled in programs that lead to a certificate or degree in a high-demand field could apply for a new scholarship under a bill heard Jan. 26 by the Education Committee.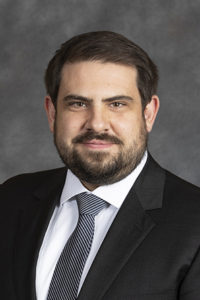 Under LB243, introduced by Lincoln Sen. Eliot Bostar, students who qualified for or received grants under the Access College Early program — which provides scholarships to low-income high school students who enroll in dual-credit courses while in high school — could qualify for the new Access College Early Tech Promise Program scholarships.
Among other requirements, students would have to attend a Nebraska community college, tribally controlled community college in Nebraska or the Nebraska College of Technical Agriculture in Curtis.
Students also would have to have received postsecondary education credit while in high school for at least two courses in a single career program of study related to an in-demand occupation that is a high priority for the state, as determined by a grant committee.
Students would have to be enrolled full time in an approved program that offers a certificate, diploma or associate degree that qualifies them for employment in an in-demand occupation.
Approximately 2,500 students received ACE scholarships in fiscal year 2019-20, Bostar said, and more than 84 percent of those students went on to college, compared to 52 percent of their low-income peers who were not ACE recipients.
He said the new program would help those students complete their two-year degrees or certificate programs in nursing, information technology, biosciences, health services and transportation, among other fields. Those middle-skill jobs account for 56 percent of Nebraska's labor market, Bostar said, but only 47 percent of the state's workforce is trained to fill them.
"When we invest in technical education students," he said, "it means we are investing in individuals that will likely live, work and pay taxes right here in our state after they graduate."
Each scholarship, which could be used for education expenses, would not be less than $1,500 for an academic year. An award for an academic year could not exceed the sum of tuition and fees plus $1,500, minus any federal Pell Grant awarded to the student.
The Coordinating Commission for Postsecondary Education, which would administer the program, estimates that LB243 would direct $244,000 in aid to students in fiscal year 2021-22 and $406,500 in FY2022-23.
Kathy Danek, president of the Lincoln Public Schools board, testified in support of the bill.
"A program to help students complete the degree or career certification after high school brings to fruition the community's investment in early college career course opportunities in high schools and career academies and keeps skilled workers close to home," she said.
Susan Martin, president of the Nebraska State AFL-CIO, also testified in support, saying that expanding access to community and technical college programs is essential to Nebraska's economic competitiveness.
"With Nebraska businesses struggling to find skilled workers for current job openings," she said, "it's more important than ever for policymakers to identify effective strategies that will attract students to career opportunities beneficial to Nebraska and to those high-demand jobs."
Mike Baumgartner, executive director of the Coordinating Commission for Postsecondary Education, also testified in support of LB243. He said the proposal would build on the "highly successful" ACE program and help recipients cover the additional expenses they will face in technical programs, such as tools, uniforms and equipment.
"The ACE Tech Promise Program leverages the investment that taxpayers and the students themselves have already made in their education success," Baumgartner said.
No one testified in opposition to the bill and the committee took no immediate action on it.