Surgical technologist standards fail to advance
Lawmakers did not advance a bill from general file Feb. 11 that would establish a registry and a minimum standard of competence for surgical technologists.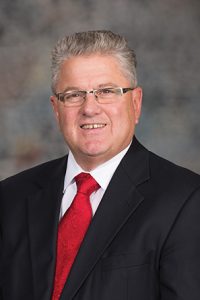 LB205, as introduced by Sen. Mark Kolterman of Seward, would require that surgical technologists:
• be at least 19 years old;
• have a high school or equivalent diploma;
• be of good moral character; and
• provide evidence of certification, completion of an accredited education program or a certified competency assessment completed by a licensed health care professional.
A surgical technologist also would be required to document any felony or misdemeanor convictions when applying to the registry.
Kolterman said the bill would promote public health without creating barriers to entry for the profession.
"There is a significant need for surgical technologists to be regulated by the state for the safety of our citizens," Kolterman said.
A Health and Human Services Committee amendment would require a registered surgical technologist to perform their duties under the authority of a licensed health practitioner. It also
would require any facility or person to report to the state Department of Health and Human Services any action taken against a surgical technologist based on his or her alleged incompetence.
Sen. Suzanne Geist of Lincoln said she supported LB205 because minimum standards should apply to anyone working in an operating room.
"This is a different arena than a hair salon," Geist said. "At some point in a surgery this individual may have their hands inside a human."
Sen. Matt Williams of Gothenburg also supported the bill. A registry would become a recruiting tool, he said, by raising the credentials of surgical technologists.
"There is a great deal of job satisfaction and recognition that comes with the fact that now they are recognized through a registry," Williams said.
Sen. John Arch of La Vista said a registry was unnecessary, in part because there have been no reports of negative patient outcomes caused by surgical technologists.
"We don't need more barriers; we don't need more costs," Arch said.
Sen. Mike Groene of North Platte said the bill would "hamstring" rural hospitals that already are struggling to fill positions.
"This is professional protectionism," Groene said. "[Surgical technologists] want to turn around and restrict other people to take the same path they did."
Blair Sen. Ben Hansen also opposed LB205, saying there had been no public outcry demanding action on the issue.
"If the real, true function of registration and licensing is to protect the consumers, you'd expect the consumers to be lobbying for registration," Hansen said. "I didn't see any."
The amendment failed on a vote of 22-12. Twenty-five votes were needed. The bill then failed to advance to select file on a vote of 15-12.