Bill would raise vaping age
The General Affairs Committee heard testimony March 4 on a bill that seeks to restrict young people's access to vapor products.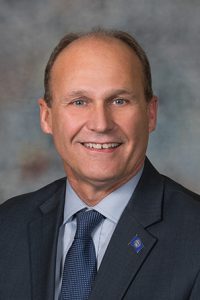 LB149, introduced by Grand Island Sen. Dan Quick, would raise the legal age from 18 to 21 for purchasing and possessing vapor products and flavored liquids containing nicotine. Under the bill, an individual who purchases or uses vapor products would be guilty of a Class V misdemeanor and an individual selling or providing vapor products to those under 21 would be guilty of a Class III misdemeanor.
The bill also would restrict indoor use of vapor products in the same manner as cigarettes and require retailers that sell vapor products to be licensed.
Quick said he would file an amendment to LB149 that also would raise the legal age from 18 to 21 for purchasing and possessing tobacco products.
Quick said there has been a sharp rise in the number of teenagers using electronic cigarettes, which often contain nicotine. Ingestion of nicotine can hinder brain development, he said.
He added that there have been incidents of 18-year-olds legally purchasing vapor products and then selling them to fellow high school students, many of whom are younger than 18, at school.
"By restricting the availability of these products to young people who are in high school or just out of high school we can reduce the [number of] kids in middle and high school who have access to both e-cigarettes and harmful tobacco products," Quick said.
Lisa Albers of the Grand Island School Board testified in support of the bill. She said vapor products appeal to teenagers because of their "kid-friendly flavors" like mango.
"Vaping products are flying under the radar, with no licensing required to sell the products, no taxation on the products and they are not part of the Clean [Indoor] Air Act," Albers said. "I've had students tell me stories of kids coming to lunch, visibly shaking, because they had a few minutes between class to take hits off their [e-cigarette]."
Omaha Burke High School principal Gaye Lannan also testified in support of the bill. She said there have been 65 vaping-related violations of the school's code of conduct so far this year compared to 37 such violations for all of last year.
"We believe this could be just a fraction of the overall number of students vaping because the devices and products are so easily concealed," Lannan said. "Vape products are virtually odorless."
Rich Otto of the Nebraska Retail Federation testified in support of the bill. Otto said he supports the licensing portion of the bill but that his organization opposes raising the legal age to use vaping products.
"We prefer that be handled at a national level," Otto said.
Eric Johnson, owner of multiple vape stores in Omaha testified against LB149. He said vaping is safer than smoking tobacco and that most teenagers use vapor products infrequently.
"The latest published data from 2018 shows that less than three percent of [teens] aged 15-to-17 use e-cigarettes on 10 or more days a month," Johnson said.
Tim Bowen of the Nebraska Vape Vendors Alliance also testified against the bill. He said Alohma—a vapor product retail chain—has a system in place to scan identification cards to verify a customer's age.
"The word is out that [minors] can't go into a vape store and buy the product," Bowen said.
Also testifying against LB149 was Tanner Whitaker, who said vapor products offer a way for people to quit smoking. Whitaker, now 21, said he started smoking tobacco when he was 15. At age 18, he switched to vapor products, and said he hasn't smoked a cigarette in more than two years.
Whitaker said he reduced his nicotine consumption dramatically by using vapor products.
The committee took no immediate action on the bill.