Additional violence prevention resources proposed
The state would increase funding for a statewide competitive grant program targeted at violence prevention under a bill considered March 6 by the Appropriations Committee.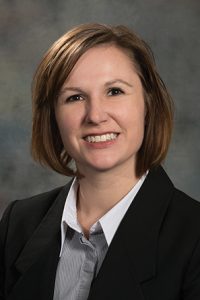 Currently, the state appropriates $525,000 annually to the Office of Violence Prevention. LB174, sponsored by Lincoln Sen. Kate Bolz, would increase that amount to $1 million annually, beginning in fiscal year 2019-20.
The funds would be used to increase total grant awards, develop an annual statewide strategic plan, increase administrative capacity and develop a technical assistance partnership with the University of Nebraska.
Violent crime in the state increased by 8.6 percent in 2017, Bolz said, and homicide is the leading cause of death for Nebraskans in their 20s. In addition to those statistics, Bolz said she was inspired to focus on the work of violence prevention, in part, by a shooting in her neighborhood last spring that killed a young father of five.
"I didn't know him personally, but I run past his memorial on my morning runs and think about him and his family frequently," she said.
Bolz noted that the funds sought in LB174 would be similar to the cost of incarcerating one inmate for 10 years in a correctional facility.
"I think it's time for us to start thinking about preventing violence [and] not just funding the results of violent activities," she said.
Jeff Sorensen, supervisor of the Lincoln Police Department's gang unit, testified in support of the bill. He said LPD has used funds from the grant program to establish the city's gang prevention program and maintain a full-time civilian gang outreach prevention coordinator. The coordinator works directly with youth who have been referred to the program, he said, and is key to LPD's community policing efforts.
"The implementation of the gang outreach prevention coordinator has been instrumental in the overall effectiveness of the Lincoln Police Department's gang strategy, which includes the prevention of youth from joining gangs," Sorensen said.
Charity Evans, a trauma surgeon at the University of Nebraska Medical Center, testified in a personal capacity in favor of LB174.
Funds from the grant program provide cities and community-based organizations with essential support, she said, which includes developing, implementing and evaluating interventions to reduce risk factors and institutionalizing evidence-based violence prevention strategies.
"Violence is not inevitable," Evans said, "and much of it can be prevented through a comprehensive public health approach that keeps our families and communities safe."
No one testified in opposition to LB174 and the committee took no immediate action on the bill.