Seat belts would be required for school vehicles
All newly purchased school vehicles in Nebraska would be equipped with seat belts under a bill heard by the Transportation and Telecommunications Committee March 4.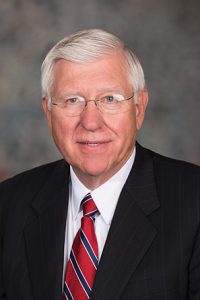 LB634, introduced by Omaha Sen. Robert Hilkemann, would require that vehicles purchased after the bill's effective date be equipped with three-point safety belts if they would be used to transport public school students.
Hilkemann said it is not a matter of if there will be another school bus accident, but when.
"Every child on a bus seat without a seat belt means more risk of serious injury to precious cargo," he said. "It's time for us to take the next step forward so that our districts can begin to prepare for when it's time to buy a new bus or enter into a new contract."
The measure would not hold school districts liable for injuries sustained from the misuse of or failure to use seat belts. School districts still would be permitted to use vehicles purchased prior to the enactment of the measure that are not equipped with seat belts.
If a school district cannot afford the upgraded vehicles due to budget constraints, the school board could opt out of the bill's provisions following an open meeting and majority vote of its members.
Dawn Prescott of Fremont, whose son died in a 2001 school bus accident, testified in support of the bill. As a passenger on the bus in which her son died, she recounted that while children were flung throughout the vehicle, only the seat-belted driver remained in his seat.
"Our children need and desire consistency as they grow up, especially when forming health habits," Prescott said. "We send an inconsistent message to our children when law requires us to make sure they wear seat belts in the car and even on an airplane, but we put them on a school bus with no safety belts."
Opposing the bill was Brad Wilkins, representing the Nebraska Association of School Boards. Children are much safer traveling in a school bus than in a passenger vehicle, he said, but in the event of an accident he expressed concerns about making sure everyone could get out of their seat belts.
"I wouldn't want to worry about removing children from restraints before pulling them out of the bus," he said. "The additional time to remove the restraints might create more danger and loss of life."
The committee took no immediate action on the bill.