Bond authority extension for certain NRDs advanced
Lawmakers advanced a bill April 8 that would extend certain bonding authority for an Omaha area natural resources district.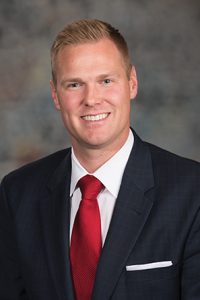 Current law authorizes natural resources districts encompassing a city of the metropolitan class to issue bonds payable from a flood protection and water quality enhancement levy on the taxable value of property in the district. The levy may not exceed 1 cent per $100 of taxable valuation annually without voter approval.
Omaha Sen. Brett Lindstrom, sponsor of LB177, said only the Papio-Missouri River NRD currently has that bonding authority, which is set to end Dec. 31, 2019. LB177 would extend it to Dec. 31, 2029.
Lindstrom said recent flooding in Omaha and surrounding communities could have been worse if not for projects the NRD has completed in recent years. The proposed levy authority extension would fund six planned flood prevention projects in Douglas and Sarpy counties that are expected to cost approximately $80 million, he said.
"LB177 overall is critical to our flood prevention plan to protect homes, businesses and life in the state," Lindstrom said.
A Natural Resources Committee amendment, adopted 26-9, instead would extend the levy authority to Dec. 31, 2024.
Venango Sen. Dan Hughes, the committee's chairperson, said the committee questioned whether a 10-year extension was necessary. He said the NRD's representatives agreed that a five-year extension would be enough to meet the district's flood control mandate.
Sen. Carol Blood of Bellevue supported the amendment and the bill, saying the special bonding authority allows the NRD to acquire land before it is developed and to finish projects more quickly, thereby reducing the cost to taxpayers.
"[The NRD has] been very responsible and prudent with their dollars," she said. "We have to trust that they know what they are doing."
Sen. Joni Albrecht of Thurston opposed the bill, saying an election held on a similar proposal failed.
"For the NRD to turn around and want to come to [the Legislature] and ask permission to extend it 10 years but then agree to five years was concerning to me," she said.
Brainard Sen. Bruce Bostelman also opposed LB177, saying the NRD should fund projects through its base levy, as the others do. He said the proposed dams and reservoirs are intended not only for flood control but to support real estate development in the area.
Sen. Ben Hansen of Blair also opposed the bill, saying some of his constituents in Washington County are concerned about the NRD's past plans to build dams there. He said the NRD should wait until 2021 for the recommendations of a current study on flood risks in the Papillion Creek Watershed before moving forward on other projects.
Senators voted 28-9 to advance LB177 to select file.