Medicaid expansion task force proposed
The Legislature would create a task force to oversee implementation of Medicaid expansion in Nebraska under a bill heard by the Executive Board Feb. 22.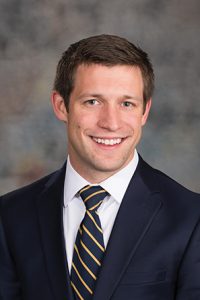 Lincoln Sen. Adam Morfeld, sponsor of LB631, said the measure would ensure that the will of Nebraska voters is carried out. An initiative petition effort to expand Medicaid coverage was approved by voters in the 2018 general election.
The state now is required to expand eligibility to adults age 19 to 64 whose incomes are 138 percent of the federal poverty level or below.
"LB631 was introduced to ensure that the implementation is successful and efficient," Morfeld said, adding that it is important for legislative stakeholders and others to be part of the process.
The Medicaid Expansion Task Force would include as voting members the chairperson or designee of the Appropriations, Health and Human Services and Judiciary committees, as well as three members of the Legislature chosen by the Executive Board.
Seven nonvoting members would include health care providers and advocates as well as hospital, business and government representatives. Nonvoting members would be appointed by the Executive Board.
Morfeld said that he would consider adding representatives of the state's federally-qualified health centers and the state Department of Health and Human Services.
The task force would hold at least three public hearings, with at least one in each congressional district, and submit a report to the Legislature annually beginning Dec. 1, 2019. The task force would terminate on Dec. 1, 2020, unless reauthorized by the Legislature.
Josue Gutierrez, a physician representing the Nebraska Academy of Family Physicians and the Nebraska Medical Association, testified in favor of LB631.
"We see this task force as an opportunity to provide a [way for] physicians and professionals who are on the front lines of our patient care to collaborate together with legislators to share their expertise," Gutierrez said.
Andy Hale of the Nebraska Hospital Association also testified in support of the bill. Rollouts of other major Medicaid changes in the past have proven disruptive and expensive for the state's hospitals, he said.
Given that expansion is estimated to bring an additional 94,000 Nebraskans into the state's Medicaid system, Hale said, planning is crucial and should include a broad range of stakeholders.
Matthew Van Patton, director of the DHHS Division of Medicaid and Long-term Care, testified in opposition to the bill. The division is making good progress toward implementation, he said, and a "duplicative" level of legislative oversight would slow that progress and stretch resources even thinner.
"The creation of a Medicaid expansion task force will not help in implementing this program," Van Patton said, adding that the division's website provides a sufficient level of transparency regarding the expansion process.
The committee took no immediate action on LB631.