Child sexual abuse reporting requirement advanced
Lawmakers gave first-round approval Feb. 26 to a bill that would strengthen reporting requirements regarding children in the state's child welfare and juvenile justice systems.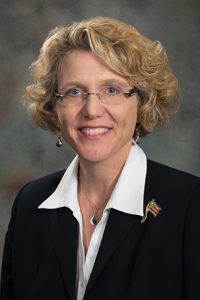 Currently, all cases of death or serious injury of a child in a foster home, private agency, child care facility or other program licensed by the state Department of Health and Human Services must be reported to, and investigated by, the office of the inspector general of Nebraska child welfare.
LB1078, introduced by Bellevue Sen. Sue Crawford, would add to that requirement all allegations of sexual abuse of a state ward or a juvenile on probation, in a detention facility or residential child-caring agency.
Crawford said the bill was in response to a 2017 inspector general report that found 50 cases of child sexual abuse of children served by Nebraska's child welfare and juvenile justice programs that were substantiated by DHHS or the court system. Of those cases, she said, 27 occurred while the child was in state care.
In light of those findings, she said, the inspector general recommended that the department create a system to collect and review information about allegations of sexual abuse of children served by the state.
Crawford said DHHS rejected the recommendation, claiming it already has an intake system that collects the information in question. However, DHHS could not immediately provide that information when asked for it by the inspector general, she said, adding that it is not a data point that is being properly collected and analyzed.
Crawford said the data must be gathered so that it can monitored to identify patterns and implement necessary interventions on behalf of vulnerable children.
"It is critical that the department and the [inspector general's] office have access to timely and accurate information about the frequency of these allegations," Crawford said. "Those children who are in our care in the child welfare and the juvenile justice system are our responsibility."
Lincoln Sen. Anna Wishart supported the bill, noting that insufficient training in the foster care system—especially for kinship and relative placements—indicates systemic issues that need to be addressed in the area of sexual abuse prevention.
"In 14 of 37 of the child sexual abuse cases that the [inspector general's office] reviewed in foster and adoptive homes, caregivers dismissed sexual abuse allegations that children made as false or failed to report them to authorities," Wishart said.
LB1078 would require that the annual report of the DHHS division of children and family services include the number of sexual abuse allegations that occurred among children being served by the division and those placed at a residential child-caring agency.
Also required would be the number of corresponding screening decision occurrences by category, open investigations by category and agency substantiations, court substantiations and court-pending status cases.
The bill advanced to select file on a 37-0 vote.