Two-year freeze recommended for certain tax provisions
Members of the Revenue Committee heard testimony Feb. 15 on a bill that would temporarily halt certain tax provisions to raise general fund revenue.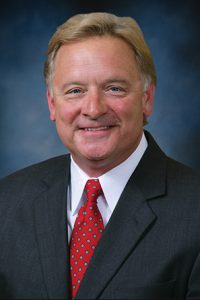 LB468, introduced by Omaha Sen. Bob Krist, would delay until 2019-20 a $224 million transfer passed last year that would provide property tax relief to agricultural and horticultural land owners.
The bill would cancel the tangible personal property exemption and the special capital gains election for 2018 and 2019. Similarly, state income tax brackets would not be adjusted for inflation during those two years.
Sales tax revenue generated from the sale and lease of motor vehicles would not be transferred to the Highway Trust Fund and the Highway Allocation Fund in fiscal year 2017-18 and FY2018-19.
Finally, the regular transfer of sales tax revenue generated from the sale and lease of motorboats, personal watercraft, ATVs and utility vehicles to the state Game and Parks Commission would terminate on June 30, 2017 rather than June 30, 2019.
The bill is projected to save the state $504 million in FY2017-18 and $543 million in FY2018-19.
Krist said it is time to seriously evaluate all sources of lost potential revenue and practice fiscal restraint in the face of a $900 million budget shortfall.
"The spending now occurs automatically, going unchecked with no legislative review of their magnitude or their merit," he said. "Without regular review, we're not watching the dollars escaping from the revenue [funds]."
Renee Fry, executive director of the OpenSky Policy Institute, testified in support of the bill. She said it is difficult to evaluate the state budget with so many earmarks and other tax expenditures.
"Some portions of state spending have escaped the regular review of the appropriations process and now occur automatically," Fry said. "Many transfers and tax expenditures in LB468 should be examined just like appropriations, especially in the face of the budget shortfall."
State Department of Roads Director Kyle Schneweis opposed the bill, specifically the provision halting transfers to the Highway Trust Fund and Highway Allocation Fund. He said freezing those transfers would result in a loss of $228 million to the department over two years.
"For every $1 reduction in funding, we would have to cancel $5 in scheduled construction," he said. "As a result, we may have to stop construction projects that are already in progress."
Timothy McCoy, deputy director of the Game and Parks Commission, opposed the loss in funding to the commission. He said the funds are slated to help eliminate the backlog of infrastructure updates needed throughout the state's park system.
"We had, through years of delaying those [projects], really built a large backlog," McCoy said. "The list doesn't get any smaller but the costs to complete those projects only goes up."
The committee took no immediate action on the bill.