Bill seeks to protect student groups against viewpoint discrimination
The Education Committee heard testimony Feb. 14 on a bill that intends to ensure that the University of Nebraska, state colleges and community colleges could not deny a benefit to a student group based on its beliefs.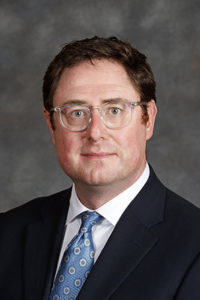 LB1050, introduced by Norfolk Sen. Michael Flood, would prohibit public postsecondary institutions from discriminating against a political, religious or ideological student organization because of its viewpoint or because it requires leaders or members to adhere to or comply with its sincerely held beliefs and standards of conduct or be committed to furthering the organization's mission.
Under Flood's proposal, a student or student organization aggrieved by a violation of that requirement could bring a civil action against a public postsecondary institution and obtain actual damages, other equitable or declaratory relief and reasonable attorney's fees and other litigation costs.
The student or student organization also could assert such a violation as a defense or counterclaim in any civil or administrative proceedings brought against them.
Flood said he introduced the bill in response to an incident last year in which Ratio Christi, a recognized student organization at the University of Nebraska-Lincoln, sued the university after it denied the organization's request for funds to host a speaker based on the expected nature of his speech.
LB1050 would clarify the existing legal standard that prohibits postsecondary institutions from discriminating against students and student groups based on their viewpoints, Flood said, thereby avoiding costly litigation in the future.
Matthew Romer, a UNL student and former Ratio Christi president, testified in support of the bill. He said the Constitution requires the university to disperse student activity funds in a viewpoint-neutral way, but an "imprecise and ambiguous" rule allowed it to discriminate against his group because of its religious beliefs.
In denying Ratio Christi's request for funds, Romer said, the university claimed it could not use student fees to promote a speaker of a political or ideological nature, specifically one with a Christian viewpoint, although it had done so several times in the past.
"We are glad that students have brought diverse speakers to address challenging topics to our campus," he said. "We just think all students should be allowed to do the same."
Adam Johnson, who said he founded Ratio Christi at UNL, also testified in support. He said every student group should have access to campus benefits on equal terms and be able to require their student leaders to affirm their groups' core beliefs.
Bren Chambers testified in opposition to LB1050 on behalf of the University of Nebraska. He said the bill is unnecessary because existing federal law and university policies prohibit the university from discriminating against a student or student group based on their religious beliefs.
Chambers did not comment on the Ratio Christi lawsuit but said the university is working to evaluate its education and training of individuals who make funding decisions related to student groups.
"I don't think it's a secret that a mistake was made," he said, "and we're working on fixing it."
Abbi Swatsworth testified in opposition to the bill on behalf of OutNebraska. She said it would allow student groups, which are funded partially through student fees, to prohibit LGBTQ and other minority students from joining and leading those groups.
"Students of minority races or faiths, or among the LGBTQ community, should not expect that their student fees support organizations that actively discriminate against them," Swatsworth said.
The committee took no immediate action on LB1050.