Temporary NDOT funding proposed
The Appropriations Committee heard testimony Feb. 8 on a bill that would provide temporary funding to the Nebraska Department of Transportation.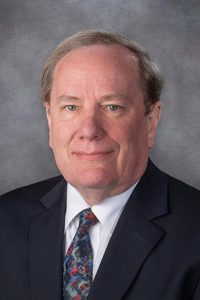 LB579, sponsored by Columbus Sen. Mike Moser, would appropriate $70 million in general funds to NDOT to repair damage to highways, roads and bridges from the 2019 floods.
The bill would require NDOT to apply for federal emergency funds and to reimburse the state $70 million upon receipt of those funds. The department also would be required to provide information about the Heartland Expressway, detailing the number of miles yet to be completed and expected milestone dates for other expressway projects, in its annual report to the Legislature.
Moser said he would offer an amendment that also would "require funding for project completion" of the expressway system. Increased ease and safety of travel between smaller communities and Lincoln and Omaha would benefit residents and industry, he said.
"There have been numerous delays in the expressway system," Moser said. "It was originally scheduled to be completed in 2003 — this is now 2021. It's 18 years since the [original] completion date that was set in 1988."
Dennis Hirschbrunner, a retired engineer, testified in support of the bill. He said NDOT has indicated that continued expressway delays are due in part to the department's need to dedicate funding to flood repair. The state owes it to residents to uphold the commitment made to finish the expressway project, he said, which LB579 would facilitate.
"It all comes down to priority and funding," Hirschbrunner said.
Shandy Hand, president of BMC Transportation in Columbus, also testified in favor of the bill. He said Columbus is a major manufacturing city in the state, but that the current highway system makes transportation of goods difficult due to safety concerns.
"Highway 30 is our [lifeline] to the east," Hand said. "Our drivers have to be very selective on when they travel Highway 30, which causes us delays."
Moe Jamshidi, acting NDOT director, testified in opposition. He said that the department is effectively managing its assets and cashflow to deliver projects on schedule and called the bill's reporting requirements redundant.
He said the department's revenues have stabilized and that reimbursement from the federal government is expected soon for eligible projects.
Delays on the expressway system owe more to the recession of 2008 and federal environmental and engineering requirements than to delays in federal reimbursements, Jamshidi said, noting that currently the cost of 1 mile of expressway is more than $5 million.
The committee took no immediate action on LB579.