Bill seeks financial protections for seniors, vulnerable adults
Certain financial professionals would have authority to delay suspicious transactions under a bill considered Jan. 26 by the Banking, Commerce and Insurance Committee.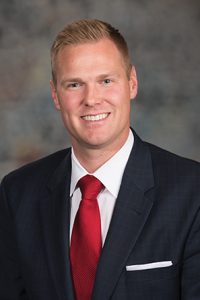 LB297, introduced by Sen. Brett Lindstrom of Omaha, would allow broker-dealers and investment advisers to hold transactions for up to 30 business days in suspected cases of exploitation of seniors and vulnerable adults.
Under the bill, broker-dealers and investment advisers would be required to notify the Adult Protective Services Division of the Nebraska Department of Health and Human Services and the state Department of Banking and Finance within two business days in order to delay a transaction and conduct an internal review.
Lindstrom said the bill would expand upon a bill passed in 2020 that enabled financial institutions to pause suspect transactions.
"There are some subtle changes from last year's legislation, but I believe they strengthen the act," he said.
Director Kelly Lammers of the state Department of Banking and Finance testified in favor of the bill. He said his department has received numerous calls of suspected fraud or exploitation, but often those reports come too late.
"Once the money has left the account, we cannot get it back," Lammers said.
Andrea Lowe of DHHS also spoke in support of LB297. She said 23 percent of the department's investigations in 2020 involved financial exploitation. The bill would afford investigators extra time to gather evidence and protect Nebraskans, she said.
"Elder financial abuse is exceedingly common," Lowe said. "Unfortunately, fewer than one-fourth of these incidents are ever reported to any agency."
No one testified in opposition to LB297 and the committee voted 8-0 to advance it to general file.