Voter ID constitutional amendment considered
Nebraskans would decide if voters must present photo identification under a constitutional amendment discussed Feb. 27 by the Government, Military and Veterans Affairs Committee.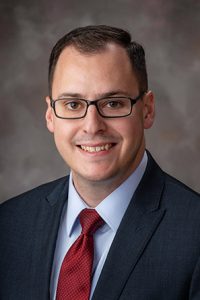 LR292CA, introduced by Sen. Andrew La Grone of Gretna, would require voters to show a photo or digital image of themselves at the polls on Election Day. Acceptable types of identification would be determined by the Legislature under the proposal.
The amendment, if approved by the Legislature, would appear on the general election ballot in November.
La Grone said requiring voter identification would increase confidence in election results while still allowing all registered voters to be included in the electoral process.
"I believe this can be done without disenfranchising a single voter," La Grone said.
Nebraska Secretary of State Bob Evnen testified in support of the resolution. He said voter ID is a "matter of common sense" that has broad support in Nebraska. Evnen said there is no evidence of widespread voter fraud in Nebraska, but requiring identification would add security to elections.
"If you wait for your election systems to become corrupted, you can never recover," Evnen said.
Doug Kagan of Nebraska Taxpayers for Freedom also testified in support. He said anyone could impersonate a registered voter at a polling site simply by giving that person's name or address.
"One now must present an ID to rent a movie or a vehicle, cash a check or board a plane," Kagan said.
Susan Gumm also supported the proposal, saying many states require voter ID.
"Voter fraud is a very real and ongoing threat to the integrity of the electoral process," Gumm said. "Every Nebraskan must be able to trust the election process and the result."
Margaret Fisher testified in opposition to LR292CA. She said she personally knows three Nebraskans who do not have a photo ID and could be disenfranchised under the proposal.
"Our voting system works. Leave it alone," Fisher said.
Sheri St. Clair, testifying on behalf of the League of Women Voters of Nebraska, opposed the proposal. She said it would place a burden on poll workers to determine if a voter matched their ID photo.
"What if the person's appearance is different from when they had the photo [taken]? They grew a beard, or shaved a beard, for example," St. Clair said.
Jaden Perkins also spoke against LR292CA. He said voter ID proposals are an "attack" on voting rights, tantamount to a poll tax. The proposal would affect non-whites disproportionately, he said, as they are roughly three times more likely than whites to lack photo identification.
"We cannot afford a voter ID bill in Nebraska," Perkins said. "Nebraska shouldn't be participating in destroying democracy."
Vickie Young, president of the Omaha branch of the NAACP, also testified against the resolution. She said there is no evidence of voter fraud in Nebraska that would justify "offensive" legislation.
"We find the Nebraska Legislature attempting to eviscerate people's right to vote," Young said. "[Voter ID] will not solve a problem that does not exist."
The committee took no immediate action on LR292CA.