Pulse crop checkoff program proposed
The Agriculture Committee heard testimony Jan. 28 on a bill that would create a checkoff program for Nebraska pulse crop growers.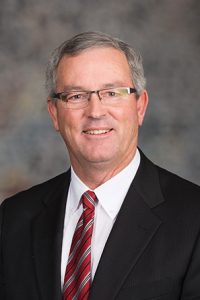 LB803, introduced by Sen. Dan Hughes of Venango, would create the five-member Pulse Crop Development, Utilization and Marketing Board.
The board would protect and stabilize the state's pulse crop industry and the economy of the areas producing those crops, which the bill defines as dry peas, lentils, chickpeas or garbanzo beans, faba beans and lupine.
Hughes said creating a state checkoff program would allow Nebraska farmers to join a national organization representing producers of dry peas, lentils and chickpeas. This would make Nebraska chickpea growers eligible for federal revenue insurance, he said.
The board could create general state policies and programs regarding the discovery, promotion and development of markets for Nebraska-grown pulse crops. It also could make grants and enter into contracts for research and data gathering.
The board's members, who would be appointed by the governor, would have to be Nebraska residents who are pulse crop growers with at least five years of experience, among other requirements.
The director of the state Department of Agriculture and the vice chancellor of the University of Nebraska's Institute of Agriculture and Natural Resources would serve as nonvoting members.
Beginning July 1, 2020, a 1 percent excise tax would be imposed on the net market value of pulse crops sold through commercial channels in the state. The tax would be levied and imposed on the grower at the time of sale or delivery. The first purchaser would collect the tax and remit it to the board.
The board could adjust the levy after July 1, 2022, but it could not exceed 2 percent of the net market value.
Strahinja Stepanović, a University of Nebraska extension educator, testified in support of LB803. He said Nebraska pulse crop acres have increased from 20,000 in 2014 to nearly 80,000 now.
"The growth has been just unreal," Stepanović said.
Farmers in western Nebraska typically grow the crops in rotation with others such as wheat, he said, a system that can reduce fertilizer use, increase soil biodiversity, better use available water, reduce production risk and increase profitability.
Stepanović said the checkoff program would provide sustainable funding for research that can develop better varieties. It also would promote Nebraska's growing pulse crop industry to processors nationwide, he said.
Ansley Fellers testified in support of the bill on behalf of the Nebraska Farm Bureau. She said most respondents to a University of Nebraska survey of pulse crop growers appeared to support the creation of a checkoff program used for research, promotion and education.
However, Fellers said, LB803 should require the proposed board to gather input from those who pay the checkoff before adjusting the levy.
"We would encourage the exploration of an amendment which would require, at minimum, a public hearing before any checkoff rate adjustment is enacted," she said.
No one testified in opposition to the bill and the committee took no immediate action on it.