Stolen firearm protections expanded
Prosecutors would have increased authority to pursue people for receiving stolen firearms under a bill advanced from general file Jan. 15.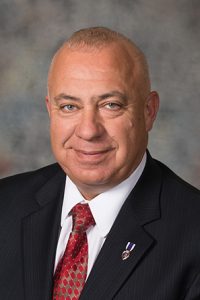 Currently, a person must have actual knowledge or belief that a gun is stolen to be convicted of crimes related to receiving a stolen firearm. LB582, sponsored by Gordon Sen. Tom Brewer, would change the standard so that a person who should have known or had reasonable cause to believe that a firearm was stolen could be prosecuted.
The trade and trafficking of stolen firearms is a statewide issue that needs to be addressed, according to Brewer.
"This does not increase the penalty for having a stolen gun … it does not create a new crime," he said. "What it does do is allow for the due process guaranteed by the Constitution for a jury or judge to decide if a stolen gun in the defendant's possession [should be] a Class IIA felony."
A person found to be in possession of a firearm that is believed to be stolen would be guilty of a Class IIA felony, which carries a maximum penalty of 20 years imprisonment.
Omaha Sen. Mike McDonnell supported the bill. Current law allows for people with a stolen gun to simply claim that they "found" it, he said.
"We have had issues in the last 30 days in Omaha where we had three guns that were possessed by an individual who just said they found [them]," McDonnell said. "Those guns were later traced back to crimes committed years ago."
Senators advanced LB582 to select file on a 43-0 vote.