Free speech protections for student journalists, advisers advanced
A bill to expand protections to student journalists and their advisers advanced from general file Jan. 14.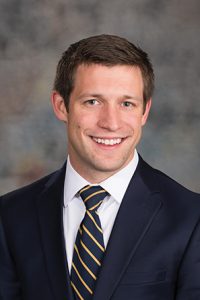 LB206, as introduced by Lincoln Sen. Adam Morfeld, would extend the full right to exercise freedom of speech and press that is provided to professional members of the media to high school and postsecondary student journalists, as well as their media advisers.
Morfeld said the protection of student journalists and their First Amendment rights is critical to the development of current and future civic leaders.
"The First Amendment should carry with it no political agenda," he said. "Instead, the First Amendment ensures free press for young Nebraskans when it comes to exercising their rights in K-12 and state institutions of higher education."
The bill would not protect any expression by a student journalist that is libelous or slanderous, constitutes an unwarranted invasion of privacy, violates state or federal law or incites students to engage in an unlawful act.
Student journalists and advisers would not be subject to discipline for exercising their rights protected under the bill.
A Judiciary Committee amendment, adopted 27-2, replaced the bill.
As amended, the provisions of LB206 only would apply to public high school and postsecondary student journalists, as well as their media advisers. Additionally, the amendment removed an original provision extending civil and criminal immunity to those protected under the bill.
Morfeld offered an amendment that would ensure student journalists and media advisers adhere to the Society of Professional Journalists' Code of Ethics.
Omaha Sen. Megan Hunt spoke in favor of the bill. A representative of the Nebraska High School Press Association reported that 78 percent of its members had experienced censorship, she said.
"[LB206] is something that's going to enhearten students who are speaking truth to power—on any side of the aisle—who are trying to learn First Amendment principles in practice, rather than as a distant theory," Hunt said.
Sen. Mike Groene of North Platte raised concerns that the bill would give too much freedom to student journalists who might be swayed by the personal political beliefs of their media adviser.
"You're talking about a school banner on a piece of paper that represents the school board and the community," he said. "Now you're going to take away the authority of the school board and the administration to peruse the paper before it's printed?"
Following the 29-2 adoption of the Morfeld amendment, lawmakers advanced LB206 to select file on a 27-5 vote.