Session Review: Government, Military and Veterans Affairs
Election law, tourism merchandising, public records law and open meeting rules were discussed by lawmakers this session.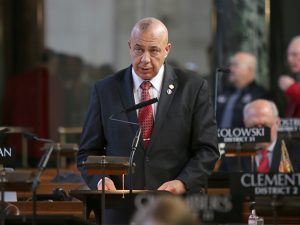 Elections
LB411, introduced by Sen. Jim Scheer of Norfolk, changed numerous election laws.
The bill, approved on a 46-0 vote, allows county boards to place a question on the ballot regarding a change in county board membership. The bill applies to counties with a population of less than 400,000 people that are not under township organization.
Under LB411, a qualifying county board may adopt a resolution by majority vote to allow voters to alter the number of commissioners on the board.
Included were provisions of 10 additional bills:
• LB98, introduced by Omaha Sen. Justin Wayne, which changes the number of signatures needed by a candidate to appear on a ballot to 4,000;
• LB101, also introduced by Wayne, which changes provisions of the Nebraska Political Accountability and Disclosure Act relating to a potential conflict of interest by an elected office holder of certain cities or villages or a school district;
• LB246, introduced by Gordon Sen. Tom Brewer, which makes technical changes to several election procedures;
• LB280, also introduced by Brewer, which increases the maximum fine under the Nebraska Accountability and Disclosure Act from $2,000 to $5,000;
• LB342, introduced by Gretna Sen. Andrew La Grone, which moves oversight of metropolitan utilities district elections from county election commissioners to the Nebraska secretary of state's office;
• LB522, introduced by Elkhorn Sen. Lou Ann Linehan, which authorizes the Douglas County board to appoint a department director and have final say in personnel matters;
• LB574, introduced by Brewer, which allows the members of a metropolitan utilities district to set the date of monthly meetings;
• LB608, introduced by La Grone, which removes outdated language regarding electronic voting and allows ballots to be counted at polling places;
• LB618, introduced by Lincoln Sen. Mike Hilgers, which redefines electioneering; and
• LB733, introduced by Sen. Rick Kolowski of Omaha, which expands access to the polls for voters with disabilities.
Several other election-related bills did not advance from committee, including LB415, introduced by Sen. Curt Friesen of Henderson, which would end the petition process to recall certain local elected officials; and LB83, introduced by Wayne, which would restore voting rights upon completion of a felony prison sentence or probation. Currently, ex-felons must wait two years before being able to register to vote.
Other measures
The Nebraska Tourism Commission can now better capitalize on its slogan: "Honestly, it's not for everyone."
LB637, introduced by Sen. John Stinner of Gering, authorizes the commission to develop and approve state marketing campaigns and develop and sell tourism products. Revenue generated by any sales will be credited to the commission's promotional cash fund. The bill passed on a 49-0 vote and took effect immediately.
Gov. Pete Ricketts vetoed a bill intended to increase Nebraska's participation in the 2020 U.S. census. LB436, introduced by Lincoln Sen. Matt Hansen, would have granted the Nebraska State Data Center program the authority to form a commission that could have solicited private funds to carry out its duties.
The bill passed 38-4, but was vetoed by the governor after the Legislature had adjourned sine die.
Current law allows for withholding certain information from disclosure under Nebraska's public records law. Introduced by Sen. Tom Briese of Albion, LB16 adds physical and cyber assets of critical energy or electric infrastructure, if the disclosure would threaten national security, public health or safety.
The bill also prohibits disclosure of the identity of personnel whose primary job makes them responsible for providing or granting access to physical or cyber assets or operating and maintaining those assets, if a reasonable person would conclude that such a public disclosure would create a substantial likelihood of risk to those assets.
LB16 passed on a 45-0 vote.
Lawmakers also approved a bill intended to clarify jurisdiction over five tracts of land inside the fence line of Offutt Air Force Base. LB214, introduced by La Grone, cedes all civil and criminal jurisdiction over the land tracts to the federal government. The bill passed 46-0.
LB511, introduced by Brewer and passed 48-0, allows state employees to devote one hour a week to youth mentoring programs. Paid leave for this purpose is not authorized under the bill.
Nebraska's largest counties and cities are allowed to use an alternative design method for transportation projects under LB583, introduced by Hilgers. The bill, passed on a 47-0 vote, allows counties of 150,000 or more residents and metropolitan and primary class cities to use a design-build method for projects that fall under the Transportation Innovation Act.
The Government, Military and Veterans Affairs Committee introduced LB212, which expands the use of teleconferencing for public meetings of risk management pools, organizations created under the Municipal Cooperative Financing Act and those created under the Interlocal Cooperation Act that sell electricity or natural gas at wholesale on a multistate basis.
The bill allows those organizations to designate a nonvoting individual, not included as part of the quorum, to be present at a site where a public hearing is being held to keep the site open for members of the public who wish to attend the public hearing by telephone conference or videoconference.
LB212 allows qualified entities to hold more than 50 percent of their meetings by telephone or videoconferencing as long as at least one meeting is not held in that manner. It also extends the allowed length of a telephone conference call from two hours to no more than five hours.
The bill includes portions of LB191, introduced by La Grone, and LB239, introduced by Adams Sen. Myron Dorn. LB191 harmonizes bond definitions and deletes obsolete language regarding financial instruments, and LB239 amends the County Budget Act to require the same four-day notice mandated in the Nebraska Budget Act.
LB212 passed 49-0.
A bill to better account for federal money flowing into Nebraska advanced out of committee but was not scheduled for debate. LB337, introduced by Stinner, would require the state Department of Administrative Services to create a list of all state agencies receiving federal funds, document requirements associated with federal grants and develop a contingency plan in case of a reduction in federal funding. The bill remains on general file.