Session Review: Health and Human Services
Public benefit requirements, licensure changes and pharmacy practice updates were the top health and human services issues addressed by lawmakers this session.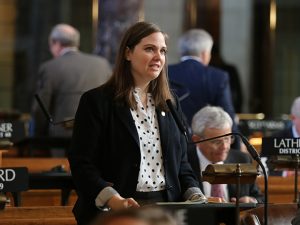 Public benefits
LB570, introduced by Sen. Lynne Walz of Fremont, requires the state Department of Health and Human Services to develop a plan to provide services to qualified individuals with disabilities in the most integrated community-based settings, known as an "Olmstead Plan."
DHHS is required to develop the plan with the University of Nebraska, the Equal Opportunity Commission and the state departments of Correctional Services, Economic Development, Labor, Transportation and Education. The plan will be completed by Dec. 15, 2019.
The bill also adds the Commission for the Deaf and Hard of Hearing, the Commission for the Blind and Visually Impaired and the Public Service Commission to the Olmstead Plan stakeholder advisory committee.
LB570 requires DHHS to work with an independent consultant to assist with continued analysis and revision of the Olmstead Plan. This analysis will be provided in a report to the Legislature by Dec. 15, 2021, and every three years going forward.
The bill passed 44-0 and took effect immediately.
A measure that delays the transition of long-term care facilities to the state's Medicaid managed care program passed this session.
LB468, also introduced by Walz, prohibits long-term care and supports—including skilled nursing facilities, nursing facilities, assisted living facilities and home and community-based services—from being added to the Medicaid managed care program before July 1, 2021.
The bill includes provisions of LB566, sponsored by Sen. Sue Crawford of Bellevue, which require notification and a hearing of the Banking, Commerce and Insurance Committee if the state Department of Insurance submits an innovation waiver to the federal government under section 1332 of the Affordable Care Act.
Notification—and a public hearing of the Health and Human Services Committee during the public comment period—also are required for a Medicaid waiver submitted under section 1115 of the federal Social Security Act.
LB468 passed on a 43-1 vote.
A bill that would remove a ban on food assistance eligibility for individuals with past drug felonies stalled during general file debate.
Under current state law, an individual is ineligible for SNAP benefits in Nebraska if he or she has three or more felony convictions for the possession or use of a controlled substance or has been convicted of a felony involving the sale, distribution of—or intent to sell or distribute—a controlled substance.
A person with one or two felony convictions for possession or use of a controlled substance is eligible only if he or she is participating in or has completed a state-licensed or nationally accredited substance abuse treatment program since the date of conviction.
As introduced, LB169, sponsored by Omaha Sen. Megan Hunt, would remove that ban. The bill also would apply the treatment requirement to individuals with three or more possession or use convictions.
After several hours of debate, the Legislature adjourned for the day before voting on LB169 or any of the pending amendments. Per a practice implemented by Speaker Jim Scheer, the sponsor of a bill that is facing a potential filibuster must demonstrate sufficient support for a cloture motion before the measure will be scheduled for additional debate.
The bill remains on general file.
The committee heard testimony on another proposed SNAP eligibility change.
LB255, sponsored by Omaha Sen. John McCollister, would increase the SNAP gross income eligibility limit from 130 percent of the federal income poverty level to 140 percent beginning Sept. 1, 2019. The bill, which would not increase the net income eligibility limit for the program, remains in committee.
Lawmakers advanced a bill that would make changes to a program meant to help individuals with disabilities maintain employment while retaining Medicaid coverage.
LB323, introduced by Crawford, would update eligibility standards for Nebraska's Medicaid Insurance for Workers with Disabilities program—commonly referred to as the Medicaid buy-in program—from federal Balanced Budget Act standards to more recent federal Ticket to Work and Work Incentives Improvement Act standards.
Senators advanced the bill to final reading this session, where it remains.
A bill that would require family planning services in Nebraska to be covered by Medicaid remains in committee.
Sen. Anna Wishart of Lincoln introduced LB498, which would direct DHHS to submit a state plan amendment to the federal Centers for Medicare and Medicaid to include medical assistance for family planning services to individuals with an income at or below 194 percent of the federal poverty level.
Licensure and credentialing
Senators passed a bill that waives initial licensing fees for a variety of health professions under the Uniform Credentialing Act.
LB112, introduced by Omaha Sen. Sara Howard, waives initial licensing fees for individuals who:
• are 18 to 25;
• have a household income less than 130 percent of the federal poverty level or are enrolled in a state or federal assistance program; and
• are active duty services members or their spouses, honorably discharged veterans or their spouses and un-remarried surviving spouses of deceased service members.
The bill was approved by a vote of 37-0.
The timeline for abuse complaints was tightened this session.
LB59, introduced by Sen. Machaela Cavanaugh of Omaha and passed 49-0, mandates that DHHS respond within five days to all complaints of child abuse or neglect made at a facility licensed under the Children's Residential Facilities and Placing Licensure Act.
If a complaint leads to an investigation, the department is required to issue a report within 60 days. The requirement could be extended to 90 days if DHHS files an interim report by the 60-day deadline.
Lawmakers also approved a bill that allows mental health substance use treatment facilities that use locked rooms to retain licensure.
LB200 was introduced by Wishart after DHHS considered revoking the operating license of The Bridge Behavioral Health facility in Lincoln last year because it uses locked rooms for clients placed into civil protective custody. Senators approved the bill on a 44-0 vote.
LB244, sponsored by Bayard Sen. Steve Erdman and passed 45-0, authorizes mobile massage therapy establishments to be operated by individuals licensed under the Massage Therapy Practice Act.
Among other requirements, services may be performed only while a mobile massage therapy unit is legally parked and a unit cannot conduct business within 300 feet of a brick and mortar licensed massage therapy establishment.
Residential child care workers must submit to a new federally mandated background check under a bill approved by lawmakers.
LB460, sponsored by the Health and Human Services Committee, mandates that any adult employed at a residential child-caring agency pay for fingerprinting and a national criminal history record information check at least once every five years. An employee also will be checked against state sex offender, criminal and child abuse and neglect registries.
The bill includes provisions of Howard's LB459 that require all prospective child care staff members to submit to a criminal history record check prior to employment, beginning Sept. 1, 2019. Child care staff currently employed will have until Sept. 1, 2021.
It also includes provisions of LB341 introduced by La Vista Sen. John Arch, which allow families to continue to receive transitional child care if their income is below 185 percent of the federal poverty level as long as the family's income does not exceed 85 percent of the Nebraska median income for a family of the same size. The bill also eliminates the program's 24-month eligibility limit.
LB460 was approved on a vote of 48-0 and took effect immediately.
Four licensure bills were advanced by the committee but were not scheduled for general file debate this session.
LB205, introduced by Sen. Mark Kolterman of Seward, would require a registry for surgical technicians. To register, a surgical technician would be required to document any felony or misdemeanor convictions, be at least 19 years old, have a high school or equivalent diploma and be of good moral character.
Among other provisions, LB607, also introduced by Kolterman, would create a three-day license for a "guest body artist"—enabling him or her to work at a licensed tattoo establishment or under a licensed body artist—create the position of nail technology apprentice, allow an apprentice to work under a licensed nail technologist and update the definition of cosmetic tattooing.
LB312, introduced by Blair Sen. Ben Hansen, would allow licensed dental hygienists to perform residential care through a home-health agency or hospice service. The bill also would eliminate a requirement that a dental hygienist have 3,000 hours of clinical experience to treat adults unsupervised in a public health setting.
LB347, introduced by Sen. Dave Murman of Glenvil, would exempt reflexologists from licensure under the Massage Therapy Practice Act.
All four bills remain on general file.
Other measures
Lawmakers approved a bill that makes several changes to the state's prescription drug monitoring program.
LB556, introduced by Sen. Sara Howard of Omaha, makes a number of changes designed to make the PDMP interact more effectively with appropriate agencies, other state drug monitoring programs and state and regional health information exchanges.
The bill also contains provisions of LB557, introduced by Omaha Sen. Brett Lindstrom, that amend the definition of a practitioner to include additional providers if they are members of a patient's care team. The provisions also change the first and third prescription to a 60-day look back and add an exemption for hospice and palliative care or a cancer diagnosis.
The measure passed on a 44-0 vote and took effect immediately.
LB559, sponsored by Arch and passed 43-0, makes a number of changes to laws related to the State Anatomical Board that incorporate provisions of the Revised Uniform Anatomical Gift Act. Among other provisions, the bill details who may receive an anatomical gift under a variety of circumstances and names the board as an approved recipient of an anatomical gift.
The Legislature also passed a bill to fund enhanced safety training for medical professionals.
LB25, introduced by Kolterman and passed 47-0, creates the Patient Safety Cash Fund to receive credentialing fees that will be used solely to support patient safety activities conducted by the Nebraska Coalition of Patient Safety. The bill imposes biennial fees of $50 for physicians and osteopathic physicians and $20 for physician assistants through 2025.
A bill that would increase resources to combat human trafficking was advanced to general file but was not scheduled for debate this session.
LB518, sponsored by Elkhorn Sen. Lou Ann Linehan, would develop a statewide network of supports and services related to human trafficking and create the Support for Trafficking Survivors advisory board.