Bill would expand online payday lending
Nebraska providers of short-term, delayed deposit loans—often called payday lenders—would be able to offer online loans under a bill considered by the Banking, Commerce and Insurance Committee March 12.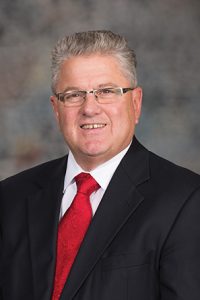 LB379, introduced by Seward Sen. Mark Kolterman, would allow a payday lender that has a principal place of business in the state to offer its products online. The bill also would mandate that all payday lenders use the National Mortgage Licensing System and pay an additional licensing fee to be determined by the state Department of Banking and Finance.
Kolterman said the bill would give Nebraskans more alternatives for small-dollar loans.
"Consumers want to access credit online and the reality is that our constituents are already accessing these loans online, just through a lender that is not regulated and licensed by this state," Kolterman said.
Justin Brady testified in favor of the bill on behalf of payday lender Advance America. He said consumer protections passed last year—notice of total fees and annual percentage rate, limiting the fee for a returned check to $15, allowing for prepayment of a loan without penalty and for a borrower to rescind a loan—would apply to online loans.
Mark Quandahl, director of the state Department of Banking and Finance, also testified in support. He said the bill would allow the department greater ability to monitor the activity of out-of-state lenders while increasing regulation of in-state lenders.
"[The bill] provides the tool for a more efficient system of licensing renewal and filing, not only for the industry, but also for the department," he said.
Kent Rogert testified in favor of the bill on behalf of the Nebraska Financial Service Association. He said it would help protect consumers.
"There are online companies that aren't [operating] in the best interest of Nebraskans," Rogert said. "This will go a long way toward helping Nebraskans not get into trouble with bad actors."
James Goddard of Nebraska Appleseed testified against LB379, saying it would expand payday lending. He said that despite the protections passed in 2018, payday loans still charge excessive interest and require loans to be paid off too quickly.
"Because of this, borrowers can still get caught in a cycle of debt where they pay off one loan and immediately take out a new one," Goddard said.
Tiffany Seibert Joekel of the Women's Fund of Omaha also testified against the bill. She said the state should stop out-of-state lenders from operating in Nebraska rather than pass a bill legalizing online payday lending in the state.
"I don't see anything in this bill that would give me confidence that by opening this practice up to more lenders that we can be sure the borrowers are protected," Seibert Joekel said.
Also testifying against the bill was Julie Kalkowski of Nebraska Hope Collaborative. Kalkowski said she works with low-income, single mothers, many of whom have taken out payday loans. She said she none of her clients have ever expressed a desire to make payday lending easier.
"I cannot see how this can benefit Nebraska consumers, I can only see how it can hurt low-income families," Kalkowski said.
The committee took no immediate action on the bill.