Behavioral and mental health training for school staff proposed
A requirement that school personnel receive suicide prevention and awareness training would be expanded to include other behavioral and mental health topics under a bill heard March 4 by the Education Committee.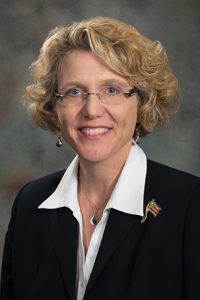 Public school nurses, teachers, counselors, psychologists, administrators and social workers currently are required to receive at least one hour of suicide awareness and prevention training each year.
LB120, sponsored by Bellevue Sen. Sue Crawford, would require staff to receive instead one hour of behavioral and mental health training each year during contract hours.
The training would include suicide awareness and prevention training and also could include identification of early warning signs and symptoms of behavioral and mental health issues, effective responses for educators, trauma-informed care and procedures for making students and parents aware of services and supports.
By expanding on an existing training requirement, Crawford said, LB120 would help meet the mental health needs of Nebraska students without placing a new mandate on school districts.
"By allowing the training to cover a more holistic view of behavioral and mental health," she said, "teachers and other school staff can be more prepared to respond to student needs that may have not yet escalated to the level of suicide."
David Miers testified in support of the bill on behalf of the Nebraska Association of Behavioral Health Organizations and the Nebraska State Suicide Prevention Coalition. He said suicide is the leading cause of death for Nebraska youth ages 10 to 14 and the second leading cause of death for youth ages 15 to 24. Ninety percent of youth who commit suicide had a diagnosable mental illness or could have been diagnosed, Miers said.
"Therefore, mandating training on suicide prevention and awareness—as well as mental health and behavioral health—to school personnel is vital and will be lifesaving for Nebraska's youth," he said.
Brian Halstead also testified in support of the bill on behalf of the state Department of Education and the state Board of Education. He said LB120 would add to the already heavy workload of the state school security director, who currently is required to oversee suicide prevention and awareness training in public schools. However, Halstead said, the department could meet the bill's requirements without additional state funding.
Rita Bennett testified in support of LB120 on behalf of the Nebraska State Education Association, the Nebraska Association of School Boards, the Nebraska Council of School Administrators and the Nebraska Rural Community Schools Association.
Although she appreciates the current training, the content has become "stale, somewhat repetitive and redundant" over the years, Bennett said. She said expanded training on behavioral and mental health topics would give teachers knowledge about the underlying conditions that could lead to suicide.
"The more inclusive training called for in LB120 is important because it does ensure that every teacher receives at least some training on these issues," Bennett said.
Ann Hunter-Pirtle, executive director of Stand for Schools, also testified in support, saying teachers and administrators have identified student behavioral and mental health services as the top unmet need in schools across the state. She said school staff should be able to identify early indicators of mental distress in students and know who to contact about appropriate interventions and resources.
"Educators are hungry for training in additional mental health topics with which a huge number of their students struggle daily—such as depression and anxiety—before students reach a crisis point of suicidal thinking," Hunter-Pirtle said.
No one testified in opposition to the bill and the committee took no immediate action on it.