Firearm protection orders discussed
People who pose a safety threat could be required to surrender their firearms under a bill considered Feb. 28 by members of the Judiciary Committee.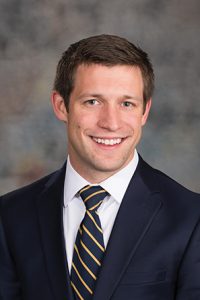 LB58, introduced by Lincoln Sen. Adam Morfeld, would allow law enforcement or a family or household member to file a petition for an extreme risk protection order against someone who they believe poses an immediate safety threat.
Family members, roommates and law enforcement are most likely to recognize warning signs, Morfeld said, which is why the bill authorizes them to petition the court.
"This bill would save lives by allowing firearms to be removed temporarily, with due process, from a person at extreme risk of harming themselves or others before warning signs escalate into violence," he said.
A petition for an extreme risk protection order must demonstrate:
• evidence that a significant risk of personal injury to the individual or others exists;
• specific statements, actions or facts that show a reasonable fear of future dangerous acts;
• the number, type and location of any firearms believed to be in the person's possession;
• if known, any existing harassment, sexual assault, domestic or similar protection orders; and
• any pending lawsuits, complaints, petitions or other action between the parties to the petition.
If law enforcement files the petition, the agency would be required to make a good faith effort to notify any family or household members who could be at risk of violence and include referrals to mental health, domestic violence and counseling resources.
The court where the petition is filed could decide to issue a temporary protection order "ex parte," or without giving notice to the respondent, if the petitioner believes the respondent poses an immediate and significant safety risk. If reasonable cause is found for a risk protection order, it would be valid for one year.
Upon issuance of an order authorized under LB58, the respondent would be required to surrender to local law enforcement any concealed carry permit and firearms in his or her possession. Additionally, law enforcement would be authorized to take possession of any firearm or permit found in plain sight or discovered through a legal search.
If an extreme risk protection order is terminated or is allowed to expire, all surrendered firearms would be returned to the respondent after confirming the person is legally eligible to possess them.
A petitioner who files for an extreme risk protection order based on false information or with the intent to harass the respondent would be guilty of a Class III misdemeanor, which carries a penalty of up to three years imprisonment, a $500 fine or both.
Anyone who possesses, purchases or receives a firearm knowing he or she is the subject of an extreme risk protection order would be guilty of a Class II misdemeanor for a first or second violation, which carries a penalty of up to six months imprisonment, a $1,000 fine or both.
A third or subsequent offense would be considered a Class IV felony, which carries a penalty of up to two years imprisonment with 12 months of post-release supervision, a $10,000 fine or both.
Lincoln Police Chief Jeff Bliemeister supported LB58. Forty percent of the people who committed suicide in the last 30 years used firearms, he said, the majority of whom were not legally prohibited from possessing one.
"An extreme risk protection order would not be the most effective tool in preventing all the tragedies," Bliemeister said. "But my professional experience leads me to believe that some deaths would be avoided, trauma to the family mitigated and additional time afforded to get everyone the assistance needed."
Jayden Speed of Omaha also spoke in favor of the bill, saying it would lay the groundwork to fight gun violence in Nebraska.
"Many shootings and gun suicides are preceded by warning signs that indicate a person is a danger to himself or others," he said. "Temporarily preventing a person in crisis [from having] access to a firearm can mean the difference between life and death."
Opposing the measure was Patricia Harrold, representing the Nebraska Firearms Owners Association. The Legislature should focus on providing resources to law enforcement and the mental health community to address the issues behind gun violence, she said, instead of threatening people's civil liberties.
"Rather than addressing those needs, we're attempting to come up with a quick and easier solution to address the potential for crime and suicide," Harrold said. "This bill proposes a real and tangible loss of civil liberties as a reasonable sacrifice in exchange for an incalculable degree of safety."
Gregg Lanik of Lincoln also opposed LB58, saying that a person's right to possess a firearm could be taken away in a "secret" hearing.
"The standard set in LB58 is not whether there is probable cause to believe a gun owner has committed a crime," he said. "Rather, the standard is some subjective determination of whether the owner represents some danger."
The committee took no immediate action on the bill.