Proposal considered to allow concealed carry in schools
Local school boards could authorize teachers and school employees to carry concealed weapons on school property under a bill discussed Feb. 28 by the Judiciary Committee.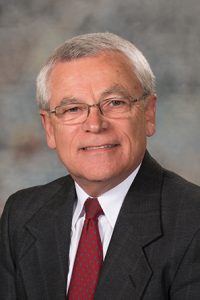 Under LB343, sponsored by Hastings Sen. Steve Halloran, any school governing body could authorize school employees who hold a valid concealed carry permit to carry a concealed handgun on school property or at school-sponsored activities or athletic events.
School safety is not a one-size-fits-all or "cookie-cutter" issue, Halloran said.
"[School shootings] have parents, students, school boards, communities and state legislatures looking for solutions to make our schools a safer learning environment," he said. "What we as a legislature need to do is provide local school districts with as many options [as possible] in their tool box to address their specific issues or concerns."
The governing board could require additional training for staff members who carry a concealed handgun, place limitations on who could carry and when or impose any other restrictions deemed appropriate.
Rachele Epp of Elkhorn supported the bill. She said concealed carry permit holders are statistically some of the most law-abiding citizens.
"For teachers, it seems reasonable and logical to permit those who are concealed carry permit holders to carry during their workday," Epp said. "[This bill] leaves the decision to the individual school districts across the state. School districts that do not wish to pursue this level of staff and student protection are not required to do so."
Opposing the bill was Paul Schulte, speaking on behalf of the Nebraska State Education Association. The bill raises many questions, he said, including what, if any, training school employees would receive on the use of deadly force.
"Teachers should not be placed in a position of personal responsibility—and by extension, personal liability—as armed first responders in an attempt to deter school shootings," Schulte said.
Lincoln High School sophomore Ainsley Frederick, representing the Lincoln High Feminists for Change, also opposed LB343. Students already deal with the persistent fear of a potential school shooting, she said, and they should not also have to wonder if one of their teachers is carrying a gun.
"I understand that this bill would only allow the option to school districts, but I don't believe there is any situation in which having a gun on a school campus should be acceptable," Frederick said.
The committee took no immediate action on the bill.