Sales tax turnback proposed to pay for water, sewer projects
An increasing percentage of state sales tax revenue would be turned back to municipalities and utilities to pay for water and sewer infrastructure projects under a bill heard Feb. 22 by the Revenue Committee.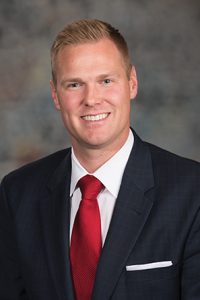 LB242, introduced by Omaha Sen. Brett Lindstrom, would require the state to pay each political subdivision, sewer utility or water utility a percentage of the state sales tax imposed and collected on sewer and potable water fees.
"Being able to provide water and sewer [services] is critical to our economic development, sanitation and living standards for all Nebraskans," Lindstrom said, "and unfortunately these projects are very expensive."
The turnback rate would be 2 percent on sales taxes imposed between July 1, 2019, and June 30, 2021, and would increase incrementally to 4 percent.
The funds could be used to pay for infrastructure improvements related to constructing, upgrading, redeveloping or replacing sewer and water infrastructure facilities; the redevelopment or replacement of obsolete water or sewer facilities; or the repayment of bonds issued for such work.
The state Department of Revenue estimates LB242 would reduce state sales tax revenue by $463,000 in fiscal year 2019-20. That would increase to $1.3 million by FY2023-24.
Lindstrom said he would introduce an amendment that would adjust the turnback rate to reduce the proposal's cost.
Donna Garden, assistant director of the city of Lincoln's transportation and utilities department, testified in support of the bill. She said Lincoln spends more than $6 million a year to maintain its water system and another $2 million a year on its wastewater system. Lincoln water and wastewater projects are funded solely by ratepayers, Garden said.
"These same ratepayers pay sales tax on the water and wastewater services that they receive," she said. "This bill allows for more of those hard-earned dollars to fund the services that they are counting on for their families and their businesses."
Also testifying in support was Omaha city council member Aimee Melton. She said Omaha has raised sewer fees significantly to pay for a federally-mandated combined sewer overflow project, which could cost up to $3 billion.
"The state does get a windfall from the sales tax on the assessment that we have to do," Melton said. "We are just asking for some assistance in turning back some of these funds."
Rodney Storm, Blair city administrator, also testified in support, saying all Nebraska communities struggle with the cost of replacing aging water and sewer infrastructure. He said LB242 would help cities pay for that maintenance and for expansion projects that would drive state economic growth.
"We're here to ask you for a partnership," Storm said.
No one testified in opposition to the bill and the committee took no immediate action on it.