Bill would fund improved doctor training
The Health and Human Services Committee considered a bill Jan. 30 that would enhance training for medical professionals.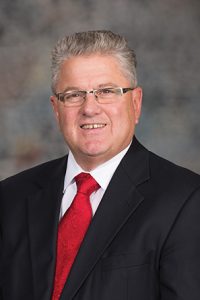 LB25, introduced by Sen. Mark Kolterman of Seward, would pay for additional training through the Patient Safety Cash Fund. Money for the fund would be generated by biennial fees of $50 for physicians and osteopathic physicians and $20 for physician assistants.
The fee would be imposed through 2025.
Kolterman said the bill would reduce the number of patients who are harmed through the negligence of health care professionals. He said the Heartland Health Research Institute estimated in 2016 that between 590 and 2,620 Nebraskans die each year from medical malpractice.
Kolterman cited an incident in which 99 patients contracted hepatitis C at a Fremont clinic where nurses used contaminated needles.
"All 99 went to the doctor for help, but came away with another deadly disease," Kolterman said.
Katherine Jones, of the Nebraska Coalition for Patient Safety, testified in favor of the bill. The NCPS provides training to doctors, nurses and other medical professionals, but Jones said that training is limited to the organization's 59 member hospitals. That coalition would expand if LB25 became law, Jones said.
"We health care professionals inadvertently harm patients because we learn very little about the nature of human error, systems-making and learning organizations in our training," Jones said. "We must have a way to rapidly learn when technological innovation collides with human fallibility."
Also speaking in favor of the bill was Britt Thedinger, president of the Nebraska Medical Association. He said that imposing a fee on NMA members would demonstrate the organization's commitment to reducing errors.
"We see this as an investment," he said. "We want to pay for this ourselves."
Thedinger added that even with the potential added fee, the cost of a doctor's license is much lower in Nebraska than it is in neighboring states.
No one spoke in opposition to LB25 and the committee took no immediate action on the bill.