Standards sought for surgical technicians
The Health and Human Services Committee heard testimony Jan. 23 on a bill that would establish a registry and a minimum standard of competence for surgical technicians.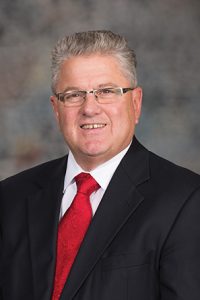 Sen. Mark Kolterman of Seward said he introduced LB205 because surgical technicians are the only members of a surgical team without a certification of their competency. Kolterman said he found that "unnerving."
Surgical technicians perform a variety of duties, including sterilizing equipment, preparing operating rooms and passing instruments to doctors during surgery. There are about 800 surgical technicians in Nebraska, Kolterman said.
"I believe there is a specific and significant need for surgical technologists to be regulated by the state for the safety of our citizens," he said.
Beginning in 2020, the bill would require that surgical technicians:
• be at least 19 years old;
• have a high school or equivalent diploma; and
• be of good moral character.
A surgical technician also would be required to document any felony or misdemeanor convictions when applying to the registry.
Casey Glassburner, president of the Nebraska State Assembly of the Association of Surgical Technologists, spoke in favor of the bill. Unqualified technologists can harm patients, she said, and those who have done so can move from job to job without being tracked.
"There have been instances in other states, specifically Colorado, where there have been surgical technologists that have performed actions potentially harmful to patients and they have moved between facilities," Glassburner said.
Glassburner, who has been a surgical technician since 2005, said the estimated $50 annual fee would not be a barrier for technicians to enter the field. Fifteen states have such a registry administered by a board of medicine or a board of health, she said.
Crystal Livingston, an administrator at Doctors Outpatient Surgery Center in Lincoln, also spoke in favor of LB205. Livingston said that when hiring staff, she's able to perform professional background checks on all medical professionals except for surgical technicians.
Most previous employers will not provide an evaluation of an employee's performance, she said, leaving her unaware if an applicant previously had been fired for misconduct or incompetence.
Maggie Summerfelt, testifying in opposition, said she was unaware of any incidents in Nebraska in which a surgical technician had harmed a patient. Summerfelt, an administrator at Advanced Surgery Center in Omaha, said the bill would make it more difficult to become a surgical technician, a profession that already has low numbers.
"It's not about safety," she said. "I asked my [surgical] techs, and they're all against it."
Tiffany Weeks also opposed the bill. Weeks said she's been looking to hire a surgical technician at Urology Surgical Center in Lincoln since December but has received less than five qualified applications. She added that when a surgical technician isn't available, a nurse is called in, taking him or her away from other duties.
The committee took no immediate action on the bill.