Process proposed for sexual assault survivors
The Judiciary Committee heard testimony Feb. 27 on a bill that would create a sexual assault survivor's bill of rights.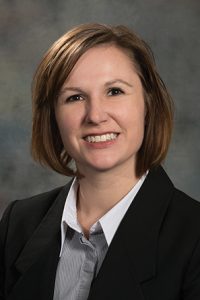 Under LB1126, introduced by Lincoln Sen. Kate Bolz, a survivor of sexual assault would be guaranteed the right to consult with a sexual assault counselor during any physical examination or interview by a peace officer, prosecutor or defense attorney.
Bolz said each day hundreds of Americans are affected by sexual violence. One out of 6 women and 1 out of 33 men will be victims of rape or attempted rape in their lifetime, she said.
"Sexual assault is traumatizing and after an attack it can be difficult to figure out next steps," Bolz said. "Learning more about what steps to take and what resources are available to them can help victims in a difficult time and protect their rights."
The bill would require that any medical professional, peace officer, prosecutor or defense attorney inform the survivor of his or her rights before conducting a physical examination or interview. A survivor also would have the right to be interviewed by a peace officer of the gender of his or her choosing.
A medical provider conducting a physical exam after a sexual assault would be required to contact the appropriate law enforcement agency within 24 hours. After the agency has taken receipt of the evidence, it would have to submit it for analysis within five days. The evidence must be analyzed within 90 days under the bill, unless a survivor requests to defer such analysis.
The crime laboratory would be required to retain the evidence indefinitely.
Evidence collected from a sexual assault physical examination could not be used to prosecute a survivor for any misdemeanor crimes or offenses under the Uniform Controlled Substances Act.
Robert Sanford, representing the Nebraska Coalition to End Sexual and Domestic Violence, spoke in support of the bill. He said the 2015 National Crime Victimization Survey found that only 310 sexual assaults out of every 1,000 victimizations are reported to police.
Sexual assault is a crime that forces many victims to second-guess nearly every decision going forward, Sanford said.
"It is a crime often committed by people we know and that society says we can trust," he said. "When the one who violated the victim is supposed to be a person they could trust, the victim may often question if anyone will believe them."
Also supporting the bill was Westin Miller of Omaha. During his time working for a 24-hour crisis hotline, he said he found that many victims of sexual assault are not aware of their rights.
Miller said one woman waited too long to get a physical examination because she falsely believed that she would need insurance to cover it.
"Being well informed of your options and rights in the face of trauma is invaluable when starting down the road to healing," Miller said.
No one testified in opposition to the bill and the committee took no immediate action on it.