Integrated education and training initiative proposed
A bill that would provide grant funding for integrated education and workforce training programs was discussed by the Business and Labor Committee Feb. 26.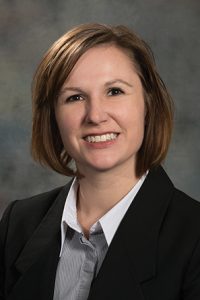 LB991, introduced by Lincoln Sen. Kate Bolz, would create the Nebraska Integrated Education and Training Grant program, to be administered by the Nebraska Community College Student Performance and Occupational Education Grant Committee.
Bolz said people without postsecondary education are unemployed and underemployed at higher rates than others.
"We all know Nebraska employers view workforce shortages to be a major impediment to economic growth," she said. "Matching these people with skill-based training will help businesses to grow and people to earn better wages."
Grants under the bill would by funded by a transfer of $750,000 from the Nebraska Training and Support Cash Fund on or before Aug. 1, 2018. A transfer of $750,000 would be made annually thereafter.
The committee would allocate competitive grants lasting up to three years to community colleges. To be considered for a grant, a community college would be required to submit an application outlining a specific integrated education and training instructional model that would be developed and implemented by educators with expertise in adult education and occupational skills training.
The application also must show how the program would prepare students to receive a high school diploma or equivalency, obtain postsecondary credentials and obtain employment through a career pathway supported by the program.
There must also be a description of the target population, a demonstrated employer demand for students who complete the program, sufficient support services provided to students, strategies for tracking and reporting outcomes and evidence of matching funds from local or philanthropic sources of at least 25 percent of the total cost of the program.
The Coordinating Commission for Postsecondary Education would be required to develop an annual evaluation for each local program, including information on the number of students enrolled, the number of students who successfully complete each program and the percentage of students who obtained employment in the relevant occupations or industries within six months of completing a program.
Representing the Nebraska Community College Association, Greg Adams spoke in favor of LB991. He said many traditional programs require students to complete remedial education courses before they can move on to a vocational training program.
The bill would allow people to take a more intensive approach, Adams said, completing remedial courses while also working on building a new career.
"This would incentivize the means whereby we can reach out and grab that nontraditional student … not just remediate him in math, but also get him into welding at the same time," he said. "They want a certificate or credential so they can move on with their lives."
Nearly 10 percent of all Nebraskans between the ages of 18 and 64 lack a high school degree or equivalent, said Nebraska Appleseed representative Ken Smith in support of the bill.
"This would help prepare the workforce for the jobs of tomorrow while creating pathways to a living wage for Nebraskans who are working more than one job and still living paycheck to paycheck," he said.
Opposing the measure was Commissioner of Labor John Albin. He said it would negatively impact the training funds that currently are available to Nebraska employers.
"If this is passed, in a matter of a few years the worker training board will have to stop awarding training grants to employers because there will be no more money left," Albin said.
The committee took no immediate action on the bill.