Bill would prevent internet content limitations
The Transportation and Telecommunications Committee heard testimony Feb. 20 on a bill that would prohibit broadband internet service providers from restricting legal internet activity.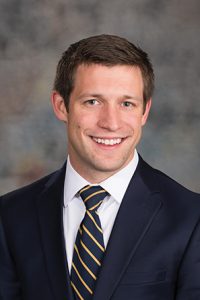 LB856, introduced by Lincoln Sen. Adam Morfeld, would protect net neutrality by prohibiting internet providers from blocking customers from accessing lawful content, applications, services or devices.
Morfeld said a December 2017 decision by the Federal Communications Commission to end net neutrality continues to negatively impact the hundreds of thousands of Nebraskans who use the internet each day.
"Whether Nebraskans utilize the internet to engage in online marketplaces or receive news, equal access to the internet is crucial as Nebraska continues to grow into the 21st century," he said. "If we allow internet companies to limit access to products and ideas, we're hurting all Nebraskans."
The bill would prevent service providers from creating "fast lanes" for certain customers, which prioritize delivery of one customer's data over another's. Providers could not impair or degrade lawful internet traffic based on the content, application or service used or unreasonably interfere or disadvantage the ability of users to select, access or use broadband internet service or the ability of any third party to make and provide content to such users.
Finally, disclosure of an internet provider's network management practices, performance and commercial terms of service would be made public so that users could determine if the provider is in compliance with the provisions of the bill.
In states with inconsistent internet availability like Nebraska, the decision to repeal net neutrality would have an even more disproportionate impact on some residents, said Common Cause Executive Director Gavin Geis. Some rural residents struggle just to access high-speed internet, he said.
"Without net neutrality, theoretically there could be tiered services for farmers, for accessing farm data," Geis said. "Certain types of access could be served at a different rate or a certain pricing scheme."
Echoing those concerns was John Hansen, representing the Nebraska Farmers Union. He said most rural residents have little to no competition for the services they receive. If an internet service provider decides to provide only tiered services or block certain websites, Hansen said, there would be little remedy available.
"You usually have one provider and your opportunity to shop elsewhere is very limited," he said. "As the [industry] continues to consolidate, we are fearful that this decision will cost us more and more as [time] goes on."
Opposing the bill was Gerry Keegan of CTIA, representing the wireless communication industry. He said regulations enacted by the FCC in 2015 to protect net neutrality actually hurt the telecommunications industry's ability to invest in and maintain networks in rural America.
Adopting the provisions of LB856 would create an inconsistent legislative framework that would do more harm than good, Keegan said.
"As people cross state borders, they will have different regulations placed upon them," he said. "This patchwork of state laws would be untenable for mobile broadband users."
The committee took no immediate action on the bill.