Lower age considered for public office eligibility
Younger Nebraskans could hold public office under a constitutional amendment discussed by lawmakers Jan. 17 and 18.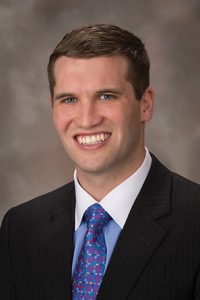 LR18CA, introduced by O'Neill Sen. Tyson Larson, would place a proposed constitutional amendment on the November 2018 general election ballot that would lower the age of eligibility for public office in Nebraska to the federal voting age, which is 18.
Currently, an individual must be at least 21 to serve in the Legislature and 30 to serve as governor, lieutenant governor or as a Nebraska Supreme Court judge.
Larson said 40 other states have established 18 as the age of eligibility for holding public office. Lowering the age would encourage greater civic engagement and lessen disenfranchisement, he said.
"If a citizen of our state has the right to vote for those who will serve and represent us, that same individual should be provided the opportunity to serve as well," Larson said.
Stressing the importance of representation, Sen. Matt Hansen of Lincoln also supported the measure.
"It's important that people can get up and see people of a similar background, age, gender or race representing them," he said. "We need to have a conversation about what we can do as a body to make sure young people have an opportunity to be involved in their government and be the change they wish to see."
Omaha Sen. Ernie Chambers offered a motion to bracket LR18CA until April 18, saying reaching a specific age does not inherently mean a person is more experienced to hold public office.
"Wisdom mandates that there's a certain minimum age and that you can make an assumption that by that age a person would have a certain amount of education and life experience that would give the person the ability to do a good job," Chambers said. "You make a [minimum] age because you're setting a standard and hope that people will build on that."
Not a single educator or student publicly voiced their support during its committee hearing, said Bancroft Sen. Lydia Brasch in opposition to the measure, indicating that its provisions are not a priority for young people now.
"[Serving] is a commitment," she said. "Listening to 1.9 million people is truly a challenging course for anyone to follow, but especially for our youth."
The bracket motion was pending when senators adjourned for the day. LR18CA remains on general file.