Session Review: Urban Affairs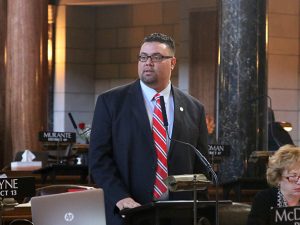 Economic development, building codes, population thresholds and tax increment financing were among the urban issues taken up by senators this session.
A new economic development tool aimed at riverfront areas was given final approval.
LB97, sponsored by Bellevue Sen. Sue Crawford, adopts the Riverfront Development District Act. Under the bill, cities may create a riverfront development district and appoint an authority of five or more members to oversee and manage the district. Two or more cities with a contiguous riverfront could create a joint authority to manage a district.
Among other provisions, an authority — in conjunction with a city — could:
• install pedestrian shopping malls or plazas and other facilities;
• construct, install and maintain boardwalks, barges, docks and wharves;
• develop, manage and coordinate public activities and events within the district;
• fix, charge and collect rents and fees;
• invest in instruments, obligations, securities or property; and
• issue limited obligation bonds secured by a pledge of any revenue of the authority or by mortgage of property owned by the authority.
A city is required to set a cap on bonding and could limit an authority's power by ordinance. In addition, an occupation tax or special assessment could not be imposed on the same property by both a riverfront development district and a business improvement district if the districts overlap.
The bill passed on a 43-0 vote.
Lawmakers passed a bill giving property owners in certain cities more time to repay special assessments levied for infrastructure projects.
Cities can create improvement districts to finance public infrastructure projects such as streets, alleys, storm sewers and sidewalks. Financing provided by the city at the beginning of a project then is repaid through a special assessment levied upon property owners located within the improvement district.
Currently, special assessments of more than $5,000 must be paid within 10 years. LB159, introduced by Omaha Sen. John McCollister, authorizes cities of the metropolitan class to extend the repayment period up to 20 years. The first installment payment is due 50 days after the initial levy date, with subsequent payments due after one year and annually after that.
The bill passed on a 47-0 vote.
A bill intended to align the state building code with state agency regulations also was passed by the Legislature.
LB590, introduced by Crawford, brings the state building code occupancy classifications for in-home day cares into alignment with state Department of Health and Human Services (DHHS) regulations. The bill also clarifies that state agencies may adopt and enforce regulations that conflict with the building code when authorized by state law to do so.
The bill raises the number of occupants for a care facility to 12, which conforms with current DHHS regulations for in-home child care providers.
LB590 passed 47-0 and takes effect immediately.
Introduced by Sen. Bob Krist of Omaha, LB9 creates a task force that will develop minimum standards for radon-resistant new construction in Nebraska. The standards will be designed so they can be enforced by a county, city or village as part of its local building code.
The task force will provide its recommendations to the governor and the Legislature's Health and Human Services and Urban Affairs committees by April 15, 2018. The task force will disband May 1, 2018.
Lawmakers voted 35-4 to pass the bill.
Also approved were two bills dealing with city and county population thresholds.
LB74, sponsored by Crawford, aligns population thresholds for annexation, review of proposed subdivision plats and approval of planned unit developments by municipalities located within counties with a population between 100,000 and 250,000.
Currently, Sarpy County is the only Nebraska county that falls within the population range covered by the bill.
LB74 also clarifies that population thresholds will be determined by the most recent federal decennial census or the most recent revised certified count by the U.S. Bureau of the Census.
The bill passed on a 45-3 vote.
Under LB113, introduced by Lincoln Sen. Matt Hansen, all municipalities will notify the Nebraska secretary of state when a population threshold is crossed. Currently, some classifications of municipalities are required to provide notification to the governor.
The bill clarifies that all municipal population thresholds are met based on either the most recent federal decennial census or the most recent revised certified count by the U.S. Census Bureau. The bill also provides a mechanism for a primary class city to become a city of the metropolitan class when it reaches a population of 300,000 or more.
LB113 passed 48-0.
LB496, introduced by Gering Sen. John Stinner, would allow certain cities and villages to use tax increment financing (TIF) to support the construction of workforce housing. The bill stalled during the second round of debate.
Stinner filed a cloture motion to cease discussion and vote on the bill during select file debate, which failed on a 32-9 vote. Thirty-three votes were needed. The bill remains on select file.
Three measures were advanced to general file by the Urban Affairs Committee but not scheduled for debate this session.
LR16CA, introduced by Omaha Sen. Justin Wayne and advanced 6-0, would place a proposed constitutional amendment on the November 2018 general election ballot. The amendment would authorize the Legislature to extend the maximum repayment period for TIF indebtedness from 15 to 20 years if more than half of the property in a project area is designated as extremely blighted.
Also introduced by Wayne and advanced on a 7-0 vote, LB614 would remove one of the caps on an economic development program available to cities under the Local Option Municipal Economic Development Act.
And LB256, sponsored by Albion Sen. Tom Briese and advanced 7-0, would allow a municipality to adopt an ordinance authorizing it to identify and register vacant properties, collect fees to compensate for the public costs of property vacancy, plan for rehabilitation and encourage occupancy of vacant properties.