Session Review: Government, Military and Veterans Affairs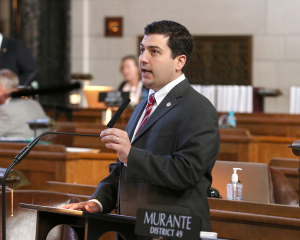 Lawmakers considered bills this session that impact administrative leadership hires, election law and the state's military installations.
Transparency
Sen. John Murante of Gretna introduced LB1109, which requires the University of Nebraska's Board of Regents to provide public notice of a preliminarily selected candidate 30 days before the board votes on whether to hire the candidate as chancellor or president. The board is required to make public the candidate's application materials and provide a forum in which the candidate can meet with and answer questions from the public.
This replaces a process in which the names of the final four candidates are made public.
Lawmakers passed the bill 38-8.
Omaha Sen. John McCollister introduced LB851, which modifies the Taxpayer Transparency Act to include quasi-public entities such as boards and commissions created by the Legislature. Entities are required to submit all expenditures of state receipts to the state treasurer for inclusion on the state's spending transparency website.
The bill defines a state entity as any agency, board, commission or department of the state and any other body created by state statute that includes a person appointed by the governor, the head of any state agency or department, an employee of the state of Nebraska or any combination of such persons that is empowered to collect and disburse state receipts.
State receipts are limited under the bill to revenue or income received by a state entity used to pay the expenses necessary to perform the state entity's functions and reported to the state treasurer in total amounts by category of income.
Data collected will be available on the state spending website beginning in fiscal year 2016-17.
LB851 passed 48-0.
LB867, introduced by the Legislative Performance Audit Committee, amends the Administrative Procedures Act (APA).
Among other provisions, the bill amends the definition of rule or regulation and clarifies that internal procedural documents used to guide agency staff on organization and operations, guidance documents and forms and instructions are not classified as rules under the APA.
The bill creates short-term emergency rules, which can be adopted outside of normal APA procedures and require the governor's approval. An emergency rule would remain in effect for 90 days and could be made permanent only through the full promulgation process.
Factors that an agency could consider in determining whether emergency rulemaking is necessary are limited to imminent peril to public health, safety or welfare or the unforeseen loss of federal funding for an agency program.
Rules and regulations made under the emergency rulemaking procedures will be filed with the secretary of state's office and published on the agency's website. Exemptions to the formal rulemaking requirements outlined in the bill may not be used if a change would alter the rights or obligations of the public.
The bill also requires the state Department of Correctional Services to develop rules and regulations for circumstances in which an inmate is outside of a correctional facility.
LB867 passed on a 33-0 vote.
Gov. Pete Ricketts vetoed a bill April 15 that would have made several changes to the state's audit operations. LB935, introduced by Ogallala Sen. Ken Schilz, had been passed April 12 on a 37-8 vote.
The bill would have authorized a penalty for a political subdivision that fails to annually provide the state auditor's office information relating to interlocal agreements. The penalty for noncompliance would have been $20 per day, not to exceed $2,000 per delinquency.
In his veto message, Ricketts focused on provisions of the bill originally introduced by Omaha Sen. Bob Krist as LB1099. Those would have changed reimbursement procedures for state employees to a per diem based on the federal rate.
The governor said the change would increase costs to the state and create a potential for misuse of tax dollars. Ricketts said he and State Auditor Charlie Janssen have agreed to study the issue further and will present a new alternative next year.
LB935 included provisions from two additional bills:
LB993, originally introduced by Lincoln Sen. Colby Coash, would have allowed the state auditor to have his or her designee serve on the state Suggestion Award Board and would have allowed the auditor to share audit working papers with the Legislature, IRS, FBI, state tax commissioner, Nebraska Accountability and Disclosure Commission and specified law enforcement agencies.
LB1084, originally introduced by Gering Sen. John Stinner, would have prevented state agencies and the state purchasing bureau from extending contracts for more than 50 percent of the initial contract term and would have prohibited more than one duration amendment per contract.
Elections
Murante introduced LB874, which makes the process for filling vacancies on school boards consistent statewide by stipulating that an appointee will fill a vacancy for the remainder of the unexpired term.
The measure includes provisions of four additional bills.
LB879, originally introduced by Murante, changes the requirement to place a candidate's name on the partisan general election ballot by petition to at least 10 percent of the registered voters entitled to vote for the office.
LB787, originally introduced by Lincoln Sen. Adam Morfeld, allows a voter to voluntarily photograph his or her ballot after it is marked and reveal the photograph.
LB741, originally introduced by Lincoln Sen. Matt Hansen, removes from the list of banned electioneering practices the display of yard signs on private property within 200 feet of a polling place that is not under common ownership with the polling place.
LB682, originally introduced by Omaha Sen. Joni Craighead, changes the deadline for a voter to request a vote-by-mail ballot from 4 p.m. of the Wednesday preceding the election to the close of business on the second Friday preceding the election.
The bill also designates the 22nd day before an election as the earliest date that an election commissioner or county clerk may send out vote-by-mail ballots. That date currently is the 20th day before an election.
LB874 passed on a 45-0 vote.
A measure that would have allowed an 18-year-old to hold public office in Nebraska stalled after two days of debate. As introduced by O'Neill Sen. Tyson Larson last session, LR26CA would have placed a proposed constitutional amendment on the November 2016 general election ballot that would change age eligibility for public office in Nebraska to the federal voting age.
Currently, an individual must be 21 to serve in the Legislature and 30 to serve as governor, lieutenant governor or as a Nebraska Supreme Court judge.
Larson offered a motion to invoke cloture–or cease debate and force a vote on the bill. The motion was defeated on a 26-18 vote. Thirty-three votes were required.
A bill that would have reinstated the winner-take-all system for allocating Nebraska's presidential electoral votes stalled on final reading. Currently, the winner of Nebraska's statewide popular vote receives two Electoral College votes. The state's three congressional districts also award one electoral vote each based on the popular vote winner in each district. Maine is the only other state to use this system.
LB10, sponsored by Omaha Sen. Beau McCoy, would have reinstated a winner-take-all system and award all five electoral votes to the winner of the state's popular vote. After extended debate, McCoy offered a cloture motion, which failed on a vote of 32-17, one vote short of the number required.

Other measures
Sen. Sue Crawford of Bellevue introduced LB754, which establishes the Commission on Military and Veterans Affairs to protect the state's military installations, attract new missions and serve Nebraska's military members and veterans.
Among other duties, the governor-appointed commission is authorized to:
• address matters of military significance in Nebraska;
• conduct activities relating to the welfare of veterans and the state's economic development; and
• advise the governor, Legislature, Nebraska's congressional delegation and other governmental officials where appropriate.
The bill also authorizes the Nebraska National Guard to utilize the Nebraska Code of Military Justice.
The bill passed 47-0.
Nebraska law recognizes four county classifications based on population. Counties had been classified as follows:
• Class I has a population of at least 300,000;
• Class II has a population of at least 200,000 and less than 300,000;
• Class III has a population of at least 100,000 and less than 200,000; and
• Class IV has a population less than 100,000.
Hansen introduced LB742, passed 46-0, which raised the Class I threshold to a population of 400,000 and adjusted the Class II threshold accordingly.
LB1080, introduced by Hastings Sen. Les Seiler, increases the purchasing limit for Cornhusker State Industries (CSI)–the state Department of Correctional Services industries program–from $25,000 to $50,000.
The bill also authorizes recycling of materials used by CSI in the production of goods and services and allows CSI to retain the recycling proceeds in order to purchase raw materials for future projects.
LB1080 passed on a 48-0 vote.
Sen. Laura Ebke of Crete introduced LR35, which called for a convention of the states, authorized under Article V of the U.S. Constitution. Congress would be compelled to call a convention of the states if a two-thirds majority–34 states–pass identical resolutions.
It would require a three-fourths majority–38 states–to ratify an amendment to the U.S. Constitution. The convention would deal only with proposed amendments, which would be sent to the states for ratification.
Senators voted 25-18 to recommit LR35 back to the Government, Military and Veterans Affairs Committee, ending debate on the measure.