Session Review: Health and Human Services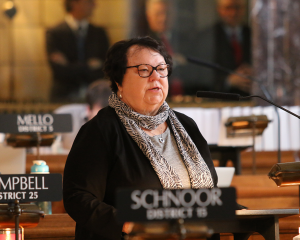 Child welfare, licensure and credentialing requirements and a fourth attempt to expand Medicaid topped the list of health and human services issues considered by lawmakers this session.
Child welfare
A bill designed to normalize life for Nebraska's foster youth was approved this session.
LB746, sponsored by Lincoln Sen. Kathy Campbell, implements a federal law designed to promote normalcy for foster youth and encourage their involvement in developmentally appropriate activities.
Under the bill, a reasonable and prudent parent standard will be developed for caregivers—whether in-home or in an institutional setting—that will allow caregivers to use their best judgment in making day-to-day decisions about participation in extracurricular and social activities for youth in their care. To the extent possible, birth parents also will be involved in such decisions.
The bill establishes the Normalcy Task Force, with members appointed by the Nebraska Children's Commission, and includes provisions of LB1034, originally introduced by Campbell. The provisions extend the termination date of the commission to June 30, 2019, and specify that no member may have a private financial interest, profit or benefit from any of the commission's work.
The bill also requires the commission to develop a system of care plan and analyze case management workforce issues. LB746 passed on a 48-0 vote.

Public benefits
LB1081, sponsored by Campbell and passed 47-0, will allow low-income Nebraskans to be part of a nationwide study on the impact of public assistance on early childhood development.
For participants in the grant funded research, the bill excludes income from participation in the study when determining eligibility for the child care subsidy program, low-income home energy assistance program, Temporary Assistance for Needy Families and Supplemental Nutrition Assistance Programs.
The exclusion is limited to $4,000 per year for four years and will be discontinued at the end of 2022.
The bill incorporated provisions of LB701, originally introduced by Omaha Sen. Heath Mello, which remove a Dec. 31, 2016, termination date for a state law that allows certain educational opportunities to count toward core work requirements for the purposes of a self-sufficiency contract under the Aid to Dependent Children program.
A fourth attempt to expand Medicaid was bracketed by lawmakers.
This year's proposal—LB1032, sponsored by Omaha Sen. John McCollister—would have created the Transitional Health Insurance Program (T-HIP) as an alternative means of providing health coverage to approximately 97,000 uninsured Nebraskans who are newly eligible under the Affordable Care Act (ACA).
LB1032 would have required the state Department of Health and Human Services (DHHS) to apply for a Medicaid waiver within 14 months of the bill's effective date. Under the waiver, individuals ineligible for Medicaid with incomes below 133 percent of the federal poverty level would be enrolled in private health insurance through a premium assistance model in which Medicaid dollars are leveraged to purchase private health plans.
The state's cost of the plan would have been paid from the state's Health Care Cash Fund under a Health and Human Services Committee amendment. The program would have terminated in three years and been suspended automatically should federal funding fall below 90 percent.
Senators voted 28-20 to bracket the bill on general file, ending debate on it for the session.
Licensure and credentialing
Under LB721, introduced by Lincoln Sen. Roy Baker and passed 48-0, DHHS will provide licensure for surgical first assistants (SFA).
The bill requires that an applicant:
• be certified as an SFA by an approved certifying body;
• successfully complete an SFA education or other experiential or training program approved by the state Board of Medicine and Surgery;
• pass a nationally recognized SFA examination adopted by the board; and
• have a high school diploma or equivalent as determined by the board.
An individual who submits evidence satisfactory to the board that he or she has been functioning primarily as an SFA in a licensed health care facility within the last five years prior to Sept. 1, 2016, will be exempt from the licensure requirements.
Also exempt are individuals who hold a current SFA certification issued by an approved certifying body or issued by another state that has standards substantially equivalent to Nebraska's.
LB722, also sponsored by Baker, develops a statewide stroke system of care in Nebraska.
The bill requires DHHS to designate Nebraska hospitals as comprehensive stroke centers, primary care stroke centers or acute stroke-ready hospitals based on nationally recognized standards.
DHHS will compile and maintain a list of such hospitals on the department's website. The department also will adopt and distribute a nationally recognized, standardized stroke triage assessment tool to each emergency medical service (EMS) licensed in the state. All EMS licensees will be required to use a triage tool and establish assessment, treatment and transport protocols for stroke patients.
In addition, a task force will be established by DHHS to address matters of triage, treatment and transport of stroke patients. The task force will provide advice and recommendations to the department regarding implementation of the Stroke System of Care Act.
The bill passed on a 45-2 vote.
LB19, sponsored by Omaha Sen. Bob Krist, requires DHHS to develop certification standards for private laboratories to test drinking water samples provided by public water systems for all acute toxins.
The department will develop regulations regarding quality assurance and quality control procedures, communication of test results and staffing, equipment, procedures and methodology for conducting laboratory tests.
The bill passed on a 41-0 vote.
LB235, introduced by Omaha Sen. Sara Howard, places restrictions on eyeglass kiosks—defined as automated equipment or applications used to conduct an eye examination either in person or remotely.
Under the bill, a kiosk must:
• be approved by the federal Food and Drug Administration;
• meet Americans with Disabilities Act requirements;
• carry liability insurance adequate to cover claims;
• comply with the Health Insurance Portability and Accountability Act;
• have a recognized Current Procedural Terminology code; and
• display the name and state license number of the provider who will read and interpret the diagnostic data and information produced by the kiosk.
Violations may incur a civil penalty up to $10,000 per violation and the attorney general may file a civil action at the request of DHHS. Investigation and complaint review will be done in accordance with the Uniform Credentialing Act.
The bill also limits the strength of over-the-counter eyeglasses to +3.25 diopters. LB235 passed on a 49-0 vote.
Natural hair braiding is exempt from cosmetology credentialing requirements under a bill passed 42-0.
Sponsored by Omaha Sen. Nicole Fox, LB898 exempts an individual engaged solely in the practice of natural hair braiding from the state's licensing requirements.
The bill defines natural hair braiding as a service of twisting, wrapping, weaving, extending, locking or braiding hair by hand or with mechanical devices without the application of dyes, reactive chemicals, chemical joining agents or other preparations to alter the color or structure of the hair.
A bill passed 47-0 updates Nebraska barber laws to align with federal financial aid requirements.
LB842, introduced by Malcolm Sen. Ken Haar, requires a high school diploma or GED prior to admittance to a barber school if the school operates as a postsecondary barber college. The bill also allows the state barber board to continue to authorize licensed barber schools at the non-postsecondary level.
A bill that would provide Nebraska dental assistants the option of becoming licensed in the state stalled during general file debate.
LB901, introduced by Seward Sen. Mark Kolterman, would have created a new category of licensed dental assistant. Licensure would have been optional under the bill, which also would have created the position of expanded function dental assistant.
The bill also would have provided the option for credentialing in expanded duties for licensed dental assistants, dental hygienists and public health hygienists.
The bill was debated briefly on the floor, but lawmakers moved on to another section of the agenda without taking action on LB901.

Other measures
Lawmakers enhanced Nebraska's Prescription Drug Monitoring Program this session.
LB471, introduced last year by Howard, will strengthen the program by:
• prohibiting patients from opting out of the system;
• requiring prescription dispensers to report to the system;
• allowing prescribers and dispensers to access the system at no cost;
• requiring all controlled substance prescriptions to be entered into the system; and
• capturing information relating to all payers, including self pay and Medicaid.
The provisions will apply to veterinarians beginning Jan. 1, 2018.
In addition, the bill establishes a 10-member Veterinary Prescription Monitoring Program Task Force. The task force will study and develop recommendations regarding which controlled substances veterinarians will report under the system, as well as appropriate reporting procedures.
The bill passed on a 46-0 vote.
LB698, sponsored by Mello, creates the Home Care Consumer Bill of Rights, which applies to individuals 60 and older, those 18 and older with a disability or who are incapacitated and to the parent or guardian of a minor who receives home care services.
A consumer of home care services, or the parent or guardian of a consumer who is a minor, will have the right to privacy and have grievances addressed in a timely manner. They also will have the right to participate in the approval of services and any changes in service and to receive care in a way that promotes his or her dignity and individuality.
An individual who violates the bill's provisions will be subject to a civil penalty of $100 per violation, up to a maximum of $2,000.
The bill was amended to include provisions from four additional bills.
LB963, introduced by Fox, updates state law to comply with changes to the federal Older Americans Act and equalizes the process for how the Area Agencies on Aging fund local programs.
LB708, introduced by Lincoln Sen. Kate Bolz, requires DHHS to develop an endorsement for assisted living facilities that provide high quality care for individuals with cognitive impairment, dementia and Alzheimer's disease.
The department also is required to examine the Medicaid rate structure and make recommendations regarding a higher or supplemental reimbursement rate for facilities that qualify for the endorsement.
LB849, introduced by Bellevue Sen. Sue Crawford, requires a hospital to give each patient or the patient's legal guardian the opportunity to name an individual as a designated caregiver.
A designated caregiver will be consulted regarding the patient's discharge plan and the hospital will be required to describe the patient's aftercare needs post-release or transfer, including a description and demonstration of any aftercare tasks.
LB869, also introduced by Crawford, aligns Nebraska law with federal requirements for fingerprinting and background checks of high-risk Medicaid providers.
The bill passed on a 47-0 vote.
LB804, introduced by Omaha Sen. Robert Hilkemann, would have allowed an eligible patient under the Investigational Drug Use Act to be treated with any drug, biological product or medical device that has successfully completed Phase 1 of a clinical trial but has not yet been approved for general use by the FDA—provided that the drug remains in an FDA-approved clinical trial.
The bill advanced from committee 7-0 and but was not discussed on general file.
Also advanced to general file was a bill that would have allowed pharmacists to substitute biological products with FDA-approved interchangeable biologics. LB979, sponsored by Heartwell Sen. John Kuehn, advanced 5-0 from committee but was not debated on the floor.