Student journalist, advisor free speech protections advance after cloture
Student journalists would have stronger First Amendment protections under a bill advanced from general file March 18 following debate spanning several days.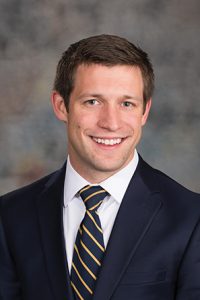 LB88, sponsored by Lincoln Sen. Adam Morfeld, would designate student-produced media as part of a public forum and extend the full right to exercise freedom of speech and press that is provided to professional members of the media to public high school and postsecondary student journalists, as well as their media advisors.
Morfeld said that students must be allowed to learn about the intersection of their First Amendment rights and the ethics of professional journalism under adult supervision. Doing so requires a "delicate balance," he said, which LB88 provides.
"The protection of student journalists' rights in our K-12 schools and state institutions of higher education is critical in the development of current and future civic leaders," he said. "Students, at an early age, must understand the power and the consequences of the First Amendment in an environment supervised by an instructor and with appropriate boundaries."
The bill would not protect any expression by a student journalist that is libelous or slanderous, constitutes an unwarranted invasion of privacy, violates state or federal law or incites students to engage in an unlawful act.
Student journalists and advisors would not be subject to discipline for exercising their rights as protected under the bill.
Sen. Julie Slama of Peru spoke in support of the proposal. As a former student journalist, Slama said she understands the importance of having guardrails in place for student media.
"The simple fact of the matter is that these students [already] are free to post whatever they want on [social media] regardless of journalistic standards," Slama said. "I do think LB88 provides a great framework for a student journalist to express their opinion and to practice journalism, all under the supervision of a faculty advisor."
Elmwood Sen. Robert Clements offered an amendment to remove high school journalists from the protections proposed in LB88. Clements said that designating all student media as part of the public forum would give students too much power.
"With public forums, my understanding is that the school no longer would really have editorial supervision over the content," he said.
Speaking in support of the Clements amendment was Bayard Sen. Steve Erdman. Local school boards should have ultimate control over which issues are covered by school-sponsored media, he said, because community norms differ.
"When you put in place a specific rule or regulation or opportunity for students to write something, those students in Harrison [for example] may find it very difficult for their community if they write something that's acceptable in Omaha," Erdman said.
Sen. Mike Groene of North Platte also supported the amendment. A single tenured faculty advisor could unduly influence what student journalists write, he said, and school administrators would be powerless to stop them under LB88.
"You [could have] one individual, who cannot be fired and may have a political [agenda] and could push their students to certain positions," Groene said.
Opposing the amendment and speaking in support of the bill was Norfolk Sen. Mike Flood. He said that curiosity and questioning authority are the foundations of journalism.
"What I see here is the learning that comes from students being empowered with the same rights that they have in society and doing it under the roof of the schoolhouse," Flood said. "Yes, it's uncomfortable — and yes, it is not pragmatic or what an administrator wants to wake up and deal with — but a student asking questions … they are learning, and they go on to do great things in life because they question."
The Clements amendment lost on a vote of 15-26.
Hastings Sen. Steve Halloran then brought an amendment, which failed 14-23, that would have allowed individual school districts to choose whether to designate their student-produced media as part of a public forum. He said doing so would reinforce school autonomy and self-governance.
"What may be okay in one part of the state may get an administrator fired in another part of the state," he said.
Morfeld opposed the Halloran amendment, saying it would remove all protections proposed in LB88 and would codify current practice instead.
After approximately eight hours of discussion, Morfeld offered a motion to invoke cloture, which ends debate and forces a vote on the bill and any pending amendments. Lawmakers voted 33-12 to invoke cloture. Thirty-three votes were needed.
Following the successful cloture motion, senators voted 15-25 to reject a pending amendment from Thurston Sen. Joni Albrecht that would have removed student control over advertisements published in school-sponsored media. Lawmakers then voted 28-15 to advance LB88 to select file.