Creation of new state veteran cemetery advances
The state of Nebraska would acquire a veterans' cemetery in Grand Island under a bill advanced from general file March 9.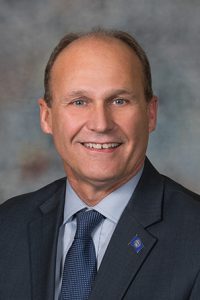 LB911, introduced by Grand Island Sen. Dan Quick, would enable the city to gift the former Nebraska Veterans' Memorial Cemetery and adjacent land to the state in order to establish a new state cemetery for veterans. The bill also would require the state Department of Veterans Affairs to apply for funding assistance from the federal government.
There is no state or national veterans' cemetery in central Nebraska, Quick said, meaning that family and friends of deceased veterans must travel hours to visit gravesites, or inter their loved ones at a closer, non-veteran cemetery.
"Grand Island is an ideal location," Quick said. "It would be meaningful for veterans and their families to honor our veterans at this facility."
Quick introduced an amendment, adopted 38-0, to clarify that the initial program statement required of the department would be paid for from the Nebraska Veteran Cemetery System Operation Fund.
The amendment also would add an emergency clause, which would make the bill effective immediately upon passage.
Lawmakers advanced LB911 to select file on a vote of 39-0.