Bond authority extension for certain NRDs advanced after cloture vote
A bill that would extend certain bonding authority for an Omaha-area natural resources district advanced to the final round of debate April 25 after a successful cloture vote.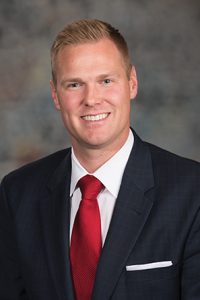 Current law authorizes natural resources districts encompassing a city of the metropolitan class to issue bonds payable from a flood protection and water quality enhancement levy on the taxable value of property in the district. The levy may not exceed 1 cent per $100 of taxable valuation annually without voter approval.
Omaha Sen. Brett Lindstrom, sponsor of LB177, has said that only the Papio-Missouri River NRD currently has that bonding authority, which is set to end Dec. 31, 2019. As amended on general file, LB177 would extend the termination date to Dec. 31, 2024.
Lindstrom said flood control projects that the NRD has completed over the past few years helped protect Omaha and surrounding communities from recent floods. He said the bonding authority allows the NRD to begin projects sooner than it otherwise could, which allows it to avoid higher construction costs due to inflation.
Sen. Sue Crawford of Bellevue supported the bill, saying the extension is needed to help complete levy improvements around Offutt Air Force Base and for flood control in rapidly growing Sarpy County.
According to Mayor David Black of Papillion, she said, the NRD needs the bonding authority to purchase tracts of land before they are developed. If the NRD cannot keep pace, Crawford said, development would need to slow down to ensure that existing homes, businesses and infrastructure are protected.
Bayard Sen. Steve Erdman opposed the bill and filed several motions to delay a vote on it. He said the NRD already has $71 million in bond debt and could pay for future projects by increasing its levy. Because the NRD must use property taxes to pay down its debt, extending the authority effectively would increase property taxes, he said.
Erdman said the general absence of flooding in the Papio Creek Watershed in March proved that the NRD no longer needs the bonding authority.
"Everything that this NRD needed to do with this bonding authority has been accomplished," he said.
Sen. Mike Groene of North Platte also opposed LB177. He said the NRD held an election in 2016 to increase its special bonding authority, as allowed under current law, but the measure failed and was supported by a majority of voters in only a single county within the NRD.
"The majority of people in the Papio NRD do not want their NRD going in further debt," Groene said.
After three hours of debate on select file, Lindstrom filed a motion to invoke cloture, or cease debate and vote on the bill. The motion succeeded on a vote of 36-9. Thirty-three votes were needed.
Senators then voted 34-9 to advance LB177 to final reading.