Flood resigns from Legislature to join U.S. House
Norfolk Sen. Michael Flood resigned from the Legislature effective July 11, a day before he is scheduled to be sworn in at the U.S. Capitol to fill the vacant seat in Nebraska's 1st Congressional District.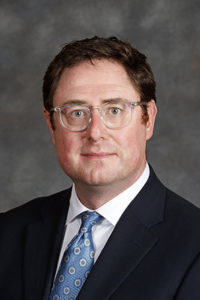 Flood, who served Legislative District 19 in northeast Nebraska, defeated Lincoln Sen. Patty Pansing Brooks in a special election June 28 to serve the remaining six months of former Rep. Jeff Fortenberry's term in the U.S. House of Representatives. Fortenberry resigned in March after he was convicted in federal court of lying to federal agents about illegal campaign contributions.
Pansing Brooks, whose current term in the Legislature ends in January 2023 and who is prevented from running for reelection due to term limits, will face Flood again in the November general election to determine who represents CD1 for the two-year term beginning next year.
Flood was elected to the Legislature in 2020 after previously serving LD19 from 2005 to 2013. He served as speaker of the Legislature for six years.
Gov. Pete Ricketts has yet to announce a replacement to serve the remainder of Flood's legislative term, which ends in January 2025.