Constitutional amendment on expanded air service advanced
Lawmakers gave first-round approval March 2 to a proposed constitutional amendment intended to help expand passenger air service at Nebraska airports.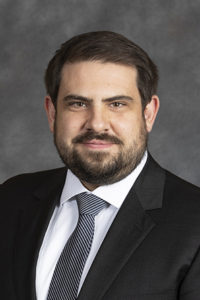 Under LR283CA, sponsored by Sen. Eliot Bostar of Lincoln, voters could amend the state constitution to allow any city, county or other political subdivision that owns or operates an airport to expend its revenues to encourage or develop new or expanded regularly scheduled commercial passenger air service.
The resolution would place the question on the November 2022 general election ballot if passed by the Legislature.
Bostar said the change would allow the governing bodies of Nebraska's nine commercial service airports to enter into contracts that guarantee a minimum amount of revenue to an airline during the first months of new or expanded air service.
"Especially for small to medium sized airports across the country, this is essentially the tool that is used to attract and expand passenger air service," he said. "I know of no other state where this cannot be utilized or isn't being utilized."
Henderson Sen. Curt Friesen supported the measure, saying expanded air service is essential to Nebraka's economic development. He said airlines have struggled during the pandemic and are reluctant to expand service unless they have a revenue guarantee.
Sen. Mike Hilgers of Lincoln also supported the proposal, saying expanded service at the Lincoln airport would help attract new businesses and residents.
"Expanding the airport here in Lincoln [is] going to be a critical part of our success as a community over the next 10 or 20 years," he said.
Also in support was Norfolk Sen. Michael Flood, who said the change could help bring more daily flights not only to Lincoln but to Grand Island, Kearney, North Platte and Scottsbluff.
Senators voted 42-1 to advance the proposal to select file.