Proposal would end nonpartisan legislative elections
A measure to consider repeal of a constitutional requirement that members of the Legislature be elected on nonpartisan ballots was heard by the Executive Board Feb. 3.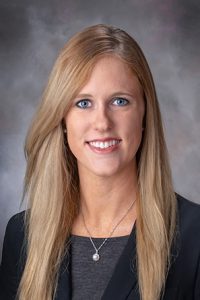 The Nebraska Constitution currently requires that state senators be nominated and elected on ballots that do not list their political party affiliation. If approved by lawmakers, LR282CA, sponsored by Sterling Sen. Julie Slama, would place a proposed constitutional amendment on the 2022 general election ballot to remove that provision.
Calling the proposal a "simple transparency measure," Slama said listing party affiliation would prevent candidates from "deceiving" voters about their political affiliation.
Voters want to know a candidate's party affiliation, she said, citing her experience while campaigning for office. Slama said that while going door to door she was asked "right off the bat" whether she was a Democrat or a Republican.
"I truly believe that we need to be transparent in everything we do, and this includes being transparent about which political party we are affiliated with," Slama said.
Testifying in support of the proposal, Charlotte Ralston said she was confused when she moved to Nebraska from Kansas and didn't see the political party affiliation of legislative candidates listed on the ballot. Voters deserve to know that information when choosing their state senators, Ralston said.
"We now know that the nonpartisan experiment of the unicameral has failed, and those involved in it are fully aware of which side of the aisle they stand [on]," Ralston said. "The only ones left in the dark are the voters."
Several former state senators from both political parties testified in opposition to the proposal, including former speaker Galen Hadley of Kearney. He said leaders from other state legislatures often were surprised to learn that political party caucuses do not have the power to control committee chairperson selection or committee membership in the Nebraska Legislature.
"Right now, the emphasis is on you as an individual senator, it's not the party," Hadley said.
Former senator DiAnna Schimek of Lincoln said that although the proposal would remove only one line from the state constitution, it would "profoundly" change how the Legislature functions.
Legislators would be less likely to work cooperatively in a formally partisan legislature, she said, and the measure likely would not improve the power of the people to hold state senators accountable.
"Senators would be expected to toe the [party] line on issues, constituents would not be as apt to approach someone of a different party and legislators would not be as apt to listen if they were beholden to a party of a different point of view," Schimek said.
Angie Philips, founder of the Nebraska Progressive Legislative Study Group, which seeks to educate voters about the Legislature, also opposed the measure. The state needs nonpartisan solutions to the problems residents face, she said, not increased partisanship.
"Our country, our state, is so polarized right now," Philips said. "We have people that can't communicate with their family members — they don't talk to old friends — it's just so divided along party lines and it's hurting our communities, regardless of what side of the [political] fence you're on."
Representing the League of Women Voters, Linda Duckworth spoke in opposition to the proposal. She said having legislative candidates run under a party banner would leave registered nonpartisan voters without a voice in primary elections. Approximately 22 percent of Nebraska voters — roughly 271,000 people — are nonpartisans who don't affiliate with a political party, she said.
Westin Miller of Civic Nebraska also testified in opposition. Nonpartisan ballots encourage voters to learn about individual candidates without the assumptions that come with party labels, he said.
"This resolution would, objectively, make us look a little bit more like Congress which … ought to be a red flag for all of us at this point,' Miller said.
The committee took no immediate action on the proposal.