Pharmacy benefit manager regulation advanced
Senators gave first-round approval Feb. 1 to a bill that would regulate pharmacy benefit managers in Nebraska.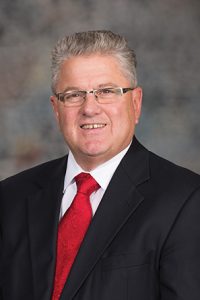 LB767, introduced by Sen. Mark Kolterman of Seward, would establish licensure and regulation standards for pharmacy benefit managers — companies that manage prescription drug benefits on behalf of health insurers — by the state Department of Insurance.
Among other provisions, the bill would:
• allow the DOI director to audit a PBM and assess penalties of up to $100,000 per violation;
• prohibit a PBM from charging any fee, chargeback or other adjustment to any pharmacy participating in the federal 340B drug discount program;
• establish an audit process for pharmacies;
• require PBMs to update the maximum allowable cost price list at least every seven days;
• prohibit PBMs from excluding a pharmacy from participating in the PBM's network if the pharmacy holds a specialty pharmacy accreditation; and
• prohibit a PBM from restricting certain actions by a pharmacist, including disclosing to a client the risks of treatment, informing a client of alternative treatments that may be available, describing the process used to authorize or deny a service or benefit and disclosing the financial incentives used by a health carrier.
Kolterman said the bill would provide much needed regulation of PBMs, reduce pharmacy administrative costs and allow small pharmacies to better compete with larger ones.
"PBMs have never been regulated by anybody," Kolterman said. "What they've been doing is … hurting our small-time pharmacies because the larger they get, the more ability they have to control those small pharmacies."
Sen. Robert Clements of Elmwood supported LB767, saying PBMs effectively have created a monopoly in Nebraska and are causing prescription drug prices to increase.
"Rural pharmacies and rural consumers need to have more of a choice," he said.
Senators voted 41-0 to adopt a Banking, Commerce and Insurance Committee amendment that further defined a 340B entity. Lawmakers then advanced the bill to select file on a 42-0 vote.