Commuter rail study proposed
The state would study the feasibility of a high-speed rail system between Nebraska's two largest cities under a bill considered Jan. 27 by the Appropriations Committee.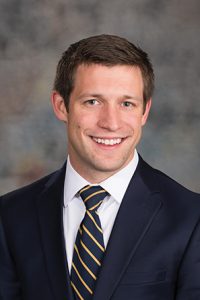 LB991, sponsored by Lincoln Sen. Adam Morfeld, would appropriate $500,000 in general funds in fiscal year 2022-23 to the state Department of Transportation to conduct a feasibility study of high-speed commuter rail service between Omaha and Lincoln. The study would include cost estimates, timelines and economic impacts for the creation of such a service.
Morfeld said a similar 2003 study estimated the cost to update existing rail lines owned by BNSF Railway for high-speed rail at $80 million. Those lines have since been updated, he said, so a new study to reevaluate the project is warranted.
In addition, Morfeld said, driving habits have changed since 2003 and more people are interested in public transportation options, including some of the thousands of Nebraskans who commute daily between Lincoln and Omaha.
"The reason why I'm so passionate about this is because I've received an overwhelming amount of support for this concept and proposal and I think it's important to pursue," Morfeld said.
Richard Schmeling, president of Citizens for Improved Transit and a member of ProRail Nebraska, testified in support of the bill. Calling the commute between Lincoln and Omaha "crowded and unpleasant," Schmeling said lanes recently added to Interstate 80 have not solved the problem.
In addition, he said, public transportation improvements in both cities have helped to address the question of how riders would get to the high-speed rail stations and to their final destinations upon arrival, addressing the "first mile/last mile" problem.
"We don't want to put ourselves in a position where we're going to have to play catch-up ball," Schmeling said. "If we build it now, it'll be cheaper than if we build it 10 or 20 years in the future."
Representing the city of Lincoln, Eric Gerrard also testified in support. Economic expansion will require partnerships between Lincoln and Omaha to entice people to the region, he said, and more public transportation options may be part of that equation.
No one testified in opposition to LB991 and the committee took no immediate action on the bill.