Transportation department reporting requirement clears first round
A bill introduced to appropriate funds to the Nebraska Department of Transportation to speed work on the state's expressway system was narrowed to a reporting requirement before being advanced to select file May 12.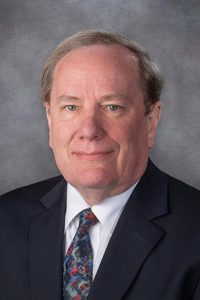 LB579, as introduced by Columbus Sen. Mike Moser, would appropriate $70 million in general funds to NDOT to offset dollars spent to repair highways, roads and bridges damaged during flooding in 2019. The bill then would require NDOT to apply for federal emergency funds and to reimburse the state $70 million upon receipt of those funds.
Moser said he introduced the proposal in response to indications from the department that funding constraints were at least partly responsible for slow progress on the state's expressway system.
The department also would be required to provide information about the expressway system in its annual report to the Legislature detailing the number of miles yet to be completed and expected milestone dates.
Moser offered an amendment, adopted 43-0, to remove the funding provision and add a requirement to include information in the annual report regarding the funding required to complete the expressway project.
Moser said NDOT has received almost half of its anticipated federal emergency reimbursement funds and has indicated that it does not need the $70 million appropriation. The new reporting requirement would provide a clearer understanding of the progress being made on the expressway system that was authorized in 1988 and has not yet been completed, he said.
"You can't fix what you can't measure," Moser said. "This bill would ask that the Department of Transportation come up with a grid that shows explicitly where we're at and how we're doing."
Sen. Lynne Walz of Fremont supported the bill and the amendment, saying it's important to ensure that NDOT is being transparent with lawmakers and residents.
"Easy to understand reports give us the ability to track the [expressway] system and faith that we're moving toward a solution," she said.
Brainard Sen. Bruce Bostelman also spoke in support. The current state of the expressway is "unacceptable," he said, especially since many other states have succeeded in accomplishing similar projects.
"Maybe our problem is project management," Bostelman said.
Lawmakers voted 44-0 to advance LB579 to select file.