Increased protections for meatpacking workers amended, advanced
Lawmakers narrowed and advanced a bill from general file May 6 that would enact health and safety protections for meatpacking workers during the ongoing coronavirus pandemic.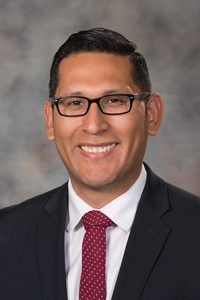 LB241, as introduced by Omaha Sen. Tony Vargas, would require employers to maintain 6 feet of space around and between each worker, including in common areas like lunch, break and locker rooms.
During the 2020 legislative session, Vargas attempted to incorporate the provisions of LB241 into another measure but the effort was unsuccessful. The rejection of that proposal, he said, resulted in increased cases, hospitalizations and deaths related to COVID-19 in meatpacking plants.
"While we're incredibly grateful for a vaccine, we are by no means out of the woods just yet," Vargas said. "The situation is urgent and demands action from all of us. Actually, it demanded actions from us months ago."
Vargas offered an amendment, adopted 31-13, that became the bill.
As amended, employers would be required to maintain 6 feet of space in common areas only. If the Centers for Disease Control and Prevention revises COVID-19 guidelines, the state Department of Labor could adjust provisions in LB241 to mirror those recommendations.
Under the bill, employers would be required to provide all workers with free face masks and shields and replace them daily or more often as needed. Additionally, employees must have ample opportunity to wash and sanitize their hands. An employee also could request gloves as needed.
Employees would be screened for COVID-19 at the start of each shift, including a temperature check — with the result disclosed to the employee — and either an oral or written questionnaire including questions about possible symptoms and exposure.
If a worker suspects they have been exposed to COVID-19, they could leave the meatpacking operation premises to receive a test on paid work time. Employees displaying COVID-19 symptoms would be allowed to quarantine at home while awaiting test results, although asymptomatic employees could return to work.
The bill also would ensure paid sick leave for an employee who tests positive that would not count against any other paid sick leave owed to the employee. Employees who may have come into direct contact with someone who tests positive must be informed by management of their potential exposure.
The protections proposed in LB241 would apply until June 30, 2022.
Grand Island Sen. Raymond Aguilar spoke in support of the amendment. He said many meatpacking employees still work in fear.
"I think it's imperative that we hold people's feet to the fire for [one] year and allow these people to go to work with a clear conscience and not fear of [COVID-19]," Aguilar said.
Also speaking in support of LB241 was Plymouth Sen. Tom Brandt. He said the safety provisions proposed in the bill are for the "bad actors" who have not implemented them voluntarily.
"Ninety-five percent of the people out there are doing it right," Brandt said. "We pass laws for that 5 percent that are not doing it right, have no intention of doing it right and want to resist until the very end."
Peru Sen. Julie Slama opposed the bill. She said the federal Occupational Safety and Health Act preempts state-level safety regulations of the kind outlined in LB241.
"From a legal perspective, Nebraska is prohibited from asserting jurisdiction under state law [over something] that is already covered under federal law," Slama said. "In order to implement this statute … we'd have to apply for an OSHA waiver and get an approved OSHA action plan, which will take at least six months."
Sen. Ben Hansen of Blair expressed concern that the bill would infringe upon business owner freedoms and could be a first step toward government overreach into other segments of the state's economy.
LB241 also would require meatpacking operation employers to document and track all COVID-19-related deaths and positive cases — broken down by race and ethnicity — and report such results monthly to the state Department of Health and Human Services and DOL, as well as to the Legislature.
The DOL commissioner would be authorized to conduct unannounced workplace inspections, including analyzing employer records and making remedial recommendations. The commissioner could issue a citation if an employer is found to be in violation of the bill's provisions.
Following the adoption of the Vargas amendment, senators voted 27-16 to advance LB241 to select file.