Fairground gaming bill advanced
A bill to allow games of chance at licensed racetracks in Nebraska that are located near fairgrounds to operate at the same time as a fair advanced from general file March 16.
Current law prohibits gambling and other "indecent" activity within 660 feet of a state, district, county or agricultural fair and provides exceptions. LB371, introduced by Grand Island Sen. Raymond Aguilar, would add games of chance under the Nebraska Racetrack Gaming Act to the current list of exceptions.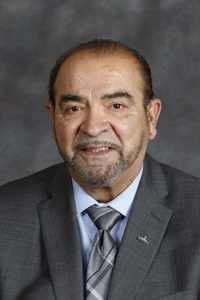 The bill would help implement the provisions of a constitutional amendment passed in 2020 that authorized licensed horse racing tracks to offer games of chance.
Aguilar said LB371 would enable such casinos located near fairgrounds in Grand Island, Hastings and Columbus to remain open while fairs are being held. He assured lawmakers that there would not be "poker tables by the Ferris wheel" because the casinos would be located in a building with a dedicated entrance that is separate from the fair.
"There is a way to allow both the fair and the casino to conduct business as normal while remaining distinctly separate from each other," Aguilar said.
Lincoln Sen. Suzanne Geist said the bill gave her pause because it could lead to parents gambling in the casino while their children participate in the fair.
"On the midway [you] end up having a large number of young people who are not supervised," Geist said. "I see that as a problem — a ripe situation for human traffickers."
Sen. John Lowe of Kearney opposed LB371, saying that games of chance and family friendly fairs don't mix.
"It's about the family and I think during that time we have to look at ourselves and see what's important in life," Lowe said. "The fairs are about showing off our best."
Sen. Tom Briese of Albion spoke in support of the bill. He said voters delivered a mandate in favor of casino gaming at racetracks in the 2020 general election and it is the Legislature's duty to implement that decision.
"What Sen. Aguilar proposes here is entirely consistent with what the voters mandated," Briese said.
Also in support was Bellevue Sen. Carol Blood, who said that senators in opposition were "making something out of nothing." She said lawmakers shouldn't ask a legal business to close down during a fair because of moral objections.
"I don't see anyone worried about the beer gardens at the county fairs — because that's an issue. People can get drunk and drive home intoxicated. Children could climb the fence and possibly get alcohol," Blood said. "We can sit here and pontificate all day long on the what-ifs."
Senators advanced LB371 to select file on a 38-5 vote.