Bill seeks to protect Second Amendment
State and local officials in Nebraska would be limited in their ability to enforce federal firearm regulations under a bill considered Feb. 24 by the Government, Military and Veterans Affairs Committee.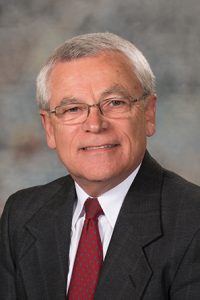 LB188, introduced by Sen. Steve Halloran of Hastings, would prohibit any state or political subdivision employee from enforcing any federal law regulating a firearm, firearm accessory or ammunition unless the measure also is codified in state law.
An individual in violation of the bill's provisions would be subject to a fine of up to $3,000 for a first offense and a Class I misdemeanor for second or subsequent offenses. A political subdivision that adopts an ordinance in violation of the bill would be ineligible to receive state grant funds for one fiscal year.
Halloran said the bill would not prevent Nebraska state troopers from issuing concealed carry permits or implementing the National Instant Criminal Background Check system, but it would prevent the federal government from "commandeering" Nebraska officials to enforce federal gun laws.
"This does not negate any actions that are against the law now, as long as [the federal government is] not trying to force our law enforcement officers … to enforce a law that isn't governed by our state law," Halloran said.
Anthony Arnold of Ashland testified in support of the bill. He said Americans are in danger of losing their right to bear arms and that the measure would ease those concerns.
"LB188 removes the ability of state-aided enforcement for hastily signed, overreaching executive orders and federal laws that do not reflect our values, our constitution and our heritage as Nebraskans," Arnold said.
Patricia Harrold, President of the Nebraska Firearms Owners Association, also supported the bill. She said it is the duty of individuals to resist gun restrictions.
"It is publicly known than our rights are a target of opportunity for an unconstitutional agenda by many in the federal government," Harrold said. "We must stand together and declare that we won't comply."
Judy King of Lincoln testified in opposition on behalf of Nebraskans Against Gun Violence. She said the bill was rooted in the same movement that led to the riot at the U.S. Capitol in January.
"We are a nation of laws and nobody is above the law, not even the state of Nebraska," King said. "By introducing this bill you are showing that you stand with those groups that tried to take our country over on January 6."
The committee took no immediate action on LB188.