Rural broadband task force recommendations advanced
Lawmakers gave first-round approval July 27 to a bill intended to encourage expansion of broadband internet service in underserved and unserved areas of the state.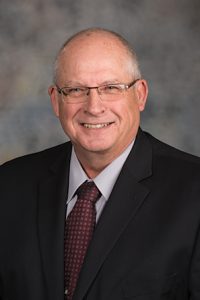 Sen. Curt Friesen of Henderson, sponsor of LB992, said the bill would make several changes to state telecommunications law recommended by the Nebraska Rural Broadband Task Force.
He said expansion of broadband internet service in rural areas is necessary for economic development and is especially important for students who must attend classes virtually because of the coronavirus pandemic.
"We need to do what we can to bridge the digital divide that exists between urban and rural areas of the state," Friesen said.
A committee amendment, adopted 44-0, would replace the bill with a modified version of the original proposal.
In addition to several technical changes, Friesen said, the amendment eliminates provisions in the original bill that would have required the Nebraska Library Commission to employ four regional technicians to provide technical support to public libraries.
It also would delay until 2022 the creation of a new position of state broadband coordinator within the office of the state chief information officer.
Among other duties, the coordinator would encourage counties to appoint a broadband coordinator to facilitate broadband planning and coordination, assist counties in determining available broadband assets and explore the creation of broadband cooperatives in unserved or underserved areas of the state.
The amendment also would allow an electric utility and a commercial broadband supplier to enter into an agreement for the use of an electric utility easement or certain electric utility infrastructure to install, maintain or own certain attached equipment for operation by a commercial broadband supplier.
An electric utility would have to notify property owners of the agreement. If an owner submits a claim for compensation related to the use of the electrical easement within 90 days, the commercial broadband supplier would be responsible for the claim.
In entering into an agreement, an electric utility could not discriminate among commercial broadband suppliers in offering or granting rights to install or attach certain broadband equipment.
The amendment would require electric utilities to charge fees that are nondiscriminatory among commercial broadband suppliers for a substantially similar lease or use of the capacity of attached facilities owned or controlled by the electric utility.
The amendment also would require the Nebraska Public Service Commission to establish a matching fund program to provide incentives for the deployment of fiber-optic cable to benefit public libraries.
Beginning July 1, 2021, the program would receive funding from the Nebraska Telecommunications Universal Service Fund.
Additionally, the amendment would change current law allowing a state agency or political subdivision to lease its unused fiber-optic cable to certain telecommunications carriers.
Before a dark fiber lease becomes effective, it would have to be filed with the commission, which would cause notice of the lease and lease rates to be published.
The amendment would require the commission to establish a safe harbor range of market rates for all dark fiber leases using a competitive price determination comparison.
It would direct 50 percent of the profit earned by an agency or political subdivision under certain dark fiber leases to be remitted to the Nebraska Telecommunications Universal Service Fund. The provision would not apply to dark fiber leases that serve unserved locations.
Finally, the amendment provides that Nebraska Rural Broadband Task Force members appointed by the governor would serve two-year terms and could be reappointed.
Senators voted 47-0 to advance LB992 to select file.